ISIR
The Institute of Scientific and Industrial Research, Osaka University
大阪大学
産業科学研究所

LAST UPDATE 2023/08/10
研究者氏名


Researcher Name

荒木徹平

 Teppei ARAKI

准教授

 Associate Professor

所属


Professional Affiliation

大阪大学産業科学研究所
The Institute of Scientific and Industrial Research, Osaka University

先進材料実装研究分野

Department of Advanced Materials and Implementations

研究キーワード


Research Keywords

ナノ・マイクロ材料
柔軟エレクトロニクス実装
センサシステム
Nano & Micro Materials
Flexible Electronics Packaging
Sensors & Systems
研究テーマ


Research Subject

先進材料実装によるフレキシブル電子デバイスの開発


Development of Flexible Electronic Devices with Advanced Material Packaging
研究の背景 Background
従来の電子デバイスには、硬くて不透明な電極や半導体が利用されており、「人の体になじみにくく自然な生体の反応データを得ることが難しい」「対象物を傷つけかねない」「対象物の目視観察が難しい」という問題がありました。そこで、人肌のような柔軟性や、水のような透明性を発現し、専門家でなくても明確に観察をすることが可能な電子デバイスの開発を通じて、生体に溶け込む次世代パーソナルセンサ(シート型センサ)の創出につながる基盤技術構築が必要になります。
Conventional electronic devices utilize hard, opaque electrodes and semiconductors. They make it difficult to obtain natural biological response data under attachment to the human body, damage the object, and are difficult to visually observe the object. To solve these problems, establishment of fundamental technologies will lead to the creation of next-generation personal sensors (sheet-type sensors) that fit into the human body through the development of electronic devices that are flexible like human skin, transparent like water, and can be clearly observed even by non-experts.
研究の目標 Outcome
本研究では、有機・無機ナノ材料を中心とする機能性材料を、電子デバイスへ集積実装することで、微小な電気信号処理を可能する柔軟・透明なシート型センサの構築を目指します。シート型センサは、対象物を傷つけることなく、人(医療・ヘルスケア)・農業・インフラ構造物などにおける異常の早期検知が可能となります。さらに、自然な状態での計測を行って得た結果をクラウドで共有することにより、リアルタイムでの状況判断や行動変容につながるような効率化も達成できます。
This research aims to construct flexible and transparent sheet-type sensors that can process minute electrical signals by integrating functional materials, mainly organic and inorganic nanomaterials, into electronic devices. Sheet-type sensors will enable early detection of abnormalities in people (medical and healthcare), agriculture, and infrastructure structures without damaging the objects. Furthermore, efficiency improvements leading to real-time situation assessment and behavior change can be achieved by sharing the results in the cloud, which are obtained through measurement in natural conditions.
研究図
Research Figure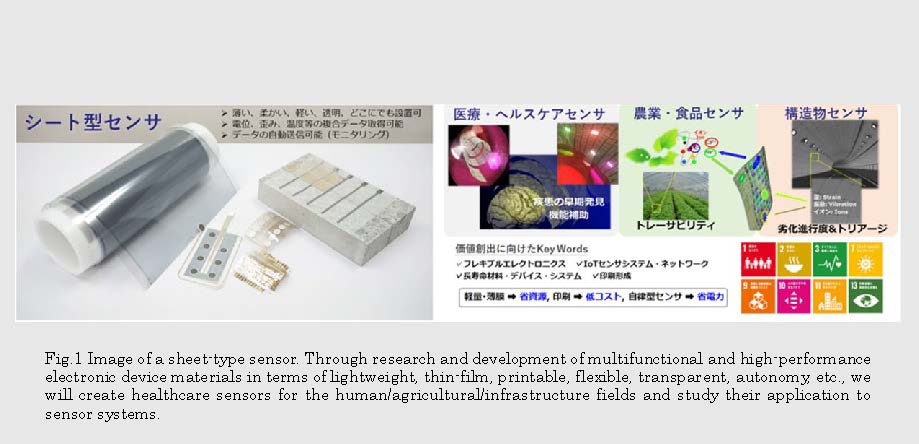 Fig.1 Image of a sheet-type sensor. Through research and development of multifunctional and high-performance electronic device materials in terms of lightweight, thin-film, printable, flexible, transparent, autonomy, etc., we will create healthcare sensors for the human/agricultural/infrastructure fields and study their application to sensor systems.
文献 / Publications
Advanced Science 10 (2022) 2204746. Science Advances 8 (2022) eabm4349. Advanced Materials Technologies 7 (2022) 2200362.
Nature Communications 12 (2021) 2399. Advanced Materials 32 (2019) 1902684. 等
研究者HP
arakisanken.osaka-u.ac.jp