IMCE
Institute for Materials Chemistry and Engineering, Kyushu University
九州大学
先導物質化学研究所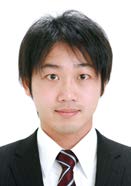 LAST UPDATE 2017/02/25
研究者氏名


Researcher Name

龍崎奏

 Sou RYUZAKI

助教

 Assistant Professor

所属


Professional Affiliation

九州大学先導物質化学研究所
Institute for Materials Chemistry and Engineering, Kyushu University

物質基盤化学部門・ナノ界面物性分野

Division of Fundamental Organic Chemistry, Nanomaterials and Interfaces

研究キーワード


Research Keywords

ナノバイオ/有機デバイス
プラズモニクス
表面界面物性
一分子物性
Nanobio/Organic Devices
Plasmonic
Surface-Interface Physics
Single Molecule Physics and Chemistry
研究テーマ


Research Subject

一分子構造解析法の開発


Development of 3D Structural Analysis Methods for a Single Molecule
研究の背景 Background
ナノポアデバイスは超微量•超高速な分析を行う革新的な1分子解析技術として期待されており、世界中で厳しい研究開発競争が展開されています。ナノポアのアスペクト比(ポア厚/ポア径)やプラズモン特性を制御することで、ナノポアを通過した1分子の3次元構造を解析できることが期待され、タンパク質などの生体分子の構造解析への応用が期待されています。
Nanopore devices have attracted considerable attention because the devices allow us to detect and analyze a single molecule. To optimize the aspect ratio (thickness/diameter) and plasmonic properties of a nanopore could result in the realization of a novel 3D structural analysis method for a single molecule. Thus, this nanopore device is expected to
研究の目標 Outcome
本研究では、1分子がナノポアを通過することで生じるイオン電流変化から分子の形状を明らかにすることを目指しています。また、ナノポア内でプラズモン共鳴をおこし、ナノポア通過分子による増強ラマン散乱光や異常透過光から分子の組成を調べることも目指しています。最終的には、これらの技術を組み合わせることで、ナノポアを通過した1分子の3次元構造解析法の実現を目標としています。
In this study, shapes of a single molecule passing through a nanopore are discussed by change in ionic current due to the translocation of the molecules. In addition, the molecular compositions of the single molecule are analyzed by enhanced Raman scattering and/or extraordinary transmission from the molecule using a nanopore being active for Plasmon resonance. We finally integrate both the technologies, then 3D structures of a single molecule passing through a nanopore are analyzed by simultaneous measurements of ionic current and enhanced Raman scattering light. investigated Nanopore devices, which allow us to detect and analyze a single molecule, have attracted considerable attention. To adjust the aspect ratio (thickness/diameter) and plasmonic properties of a nanopore results in the realization of a novel 3D structural analysis method for a single molecule. Thus, this nanopore device is expected to be applied to structural analysis for biomolecules such as proteins.
研究図
Research Figure
Fig.1. Schematic image of the structural analysis using a nanopore device. Fig.2. Dependence of ionic current on the shapes of nanomaterials passing through the nanopore. Fig.3. Finite-Difference Time-Domain (FDTD) simulation result for the plasmanic nanopore made of Ag.
文献 / Publications
Appl. Phys. Lett. 105, 093109 (2014). Appl. Phys. Lett. 104, 113301 (2014). NPG Asia Materials 6, e104, doi:10.1038/am.2014.29A (2014). J. Phys. D: Appl. Phys. 44, 265102 (2011).
研究者HP
ryuzakims.ifoc.kyushu-u.ac.jp