RIES
Research Institute for Electronic Science, Hokkaido University
北海道大学
電子科学研究所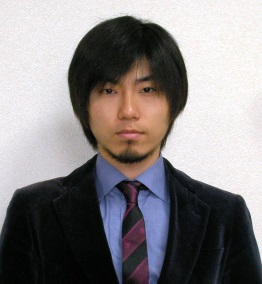 LAST UPDATE 2017/02/25
研究者氏名


Researcher Name

藤岡正弥

 Masaya FUJIOKA

助教

 Assistant Professor

所属


Professional Affiliation

北海道大学電子科学研究所
Research Institute for Electronic Science, Hokkaido University

光電子ナノ材料研究分野

Laboratory of Nanostructured Functional Materials

研究キーワード


Research Keywords

超伝導物質
高圧合成・高圧測定
微細加工
新材料探索
Superconducting materials
High pressure synthesis and measurements
Nano-fabrication
Exploration of new materials
研究テーマ


Research Subject

超伝導物質の高特性化と新規物質の探索


Development of superconductors with high characteristics and exploration of novel materials
研究の背景 Background
ゼロ抵抗は超伝導物質特有の性質であり、この性質を利用した超伝導エネルギー貯蔵や、エネルギー損失ゼロの送電ケーブルは社会に大きな利益をもたらすと期待されています。近年、鉄系超伝導体や、BiCh2系超伝導体など、様々な物質が発見されていますが、さらに超伝導応用を発展させるには、より高い超伝導特性を有する物質の探索が求められます。
Zero resistivity is one of the unique properties of a superconductor. Superconducting magnetic energy storages and superconducting cables without energy loss will be expected to provide large benefit for our society. Recently, various superconductors, including iron-based superconductors and BiCh2 superconductors, have been discovered. However, the exploration of novel superconductors with higher superconducting properties is necessary to develop these applications of superconductors,
研究の目標 Outcome
高温高圧下での物質合成は、従来の固相反応法で得られない新たな超伝導物質を生み出す可能性があります。得られた物質の超伝導特性、結晶構造、電子状態を調べることで超伝導発現のメカニズムを理解し、より高い特性を有する超伝導物質の設計及び開発をおこなっています。
The high pressure synthesis is useful to obtain the novel superconducting materials which cannot be synthesized by conventional solid state reaction. Their superconducting properties, crystal structures, and electronic states are investigated to reveal the mechanism behind the appearance of superconductivity. On the bases of these results, we are designing and developing superconductors with higher superconductivity
研究図
Research Figure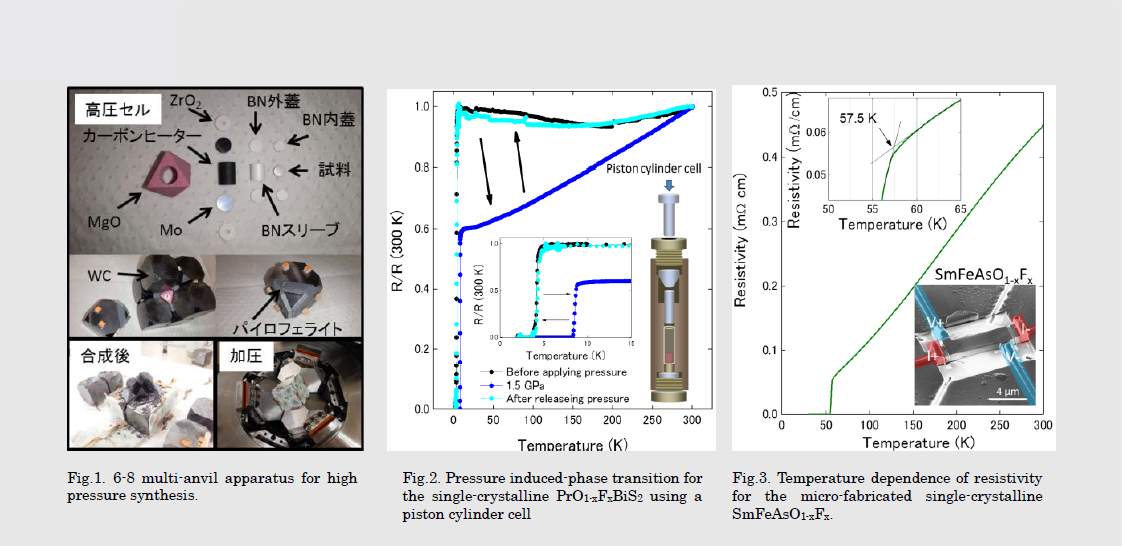 Fig.1. 6-8 multi-anvil apparatus for high pressure synthesis. Fig.2. Pressure induced-phase transition for the single-crystalline PrO1-xFxBiS2 using a piston cylinder cell Fig.3. Temperature dependence of resistivity for the micro-fabricated single-crystalline SmFeAsO1-xFx.
文献 / Publications
Appl. Phys. Lett., 106, 112601 (2015). Appl. Phys. Lett., 105, 052601 (2014). Appl. Phys. Lett., 105, 102602 (2014). Europhys. Lett., 108, 47007 (2014). "Iron-Based Superconductors, SmFeAsO1-xFx", Wiley Encyclopedia of Electrical and Electronics Engineering. Wiley, (2014), 1–30.
研究者HP
fujiokaes.hokudai.ac.jp