ISIR
The Institute of Scientific and Industrial Research, Osaka University
大阪大学
産業科学研究所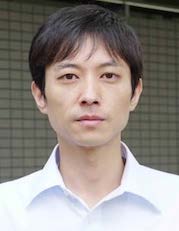 LAST UPDATE 2017/02/26
研究者氏名


Researcher Name

籾田浩義

 Hiroyoshi MOMIDA

助教

 Assistant Professor

所属


Professional Affiliation

大阪大学産業科学研究所
The Institute of Scientific and Industrial Research, Osaka University

産業科学ナノテクノロジーセンター ナノ機能予測研究分野

Department of Theoretical Nanotechnology, Nanoscience and Nanotechnology Center

研究キーワード


Research Keywords

計算材料科学
第一原理計算
固体物性
新材料探索
Computational materials science
First-principles calculations
Solid state physics
Exploration of novel materials
研究テーマ


Research Subject

第一原理計算による固体物性解析と新規材料探索


Theoretical analyses and predictions of novel material properties by first-principles calculations
研究の背景 Background
これまでの電子デバイス開発は構造の極限的な微細化を追求することで高性能化を達成してきたが、現在ではデバイス構造はナノメートル規模の領域に達しており、次世代デバイス開発において材料物性に対する原子・電子レベルの理解は必須なものとなっている。また、新奇な物性機能を有する物質の研究開発が活発に進められており、新原理に基づく電子・スピンデバイスへの応用展開が期待されている。
To develop better electronic devices, higher device performances have been achieved by downsizing its structure. However, typical size of the device structures reaches to nano-meter scales, and we need to understand material properties at atomic and electronic levels for developing next-generation devices. In addition, novel materials with interesting properties have been found and attracted much interests, and applications of them to future electronic and spin devices based on new principles are expected.
研究の目標 Outcome
第一原理計算を基盤技術とした量子論的・非経験的計算科学手法を用いて、物質・材料の新奇機能の探索やその電子論的メカニズムの解明に取り組む。また、次世代エレクトロニクス・スピントロニクス素子への応用が期待される物質系で発現する固体物性の微視的理解を導くとともに、優れた性能を有する実用的な新規材料の発見を目標とする。
We try to find new materials with novel functional properties and to clarify electronic mechanisms of the material properties on the basis of the quantum mechanics and non-empirical computational methods using first-principles electronic structure calculations. Our major goal is theoretical explorations of useful and new materials that have superior material performances, and to get microscopic insights on novel materials properties for future electron and spin device materials.
研究図
Research Figure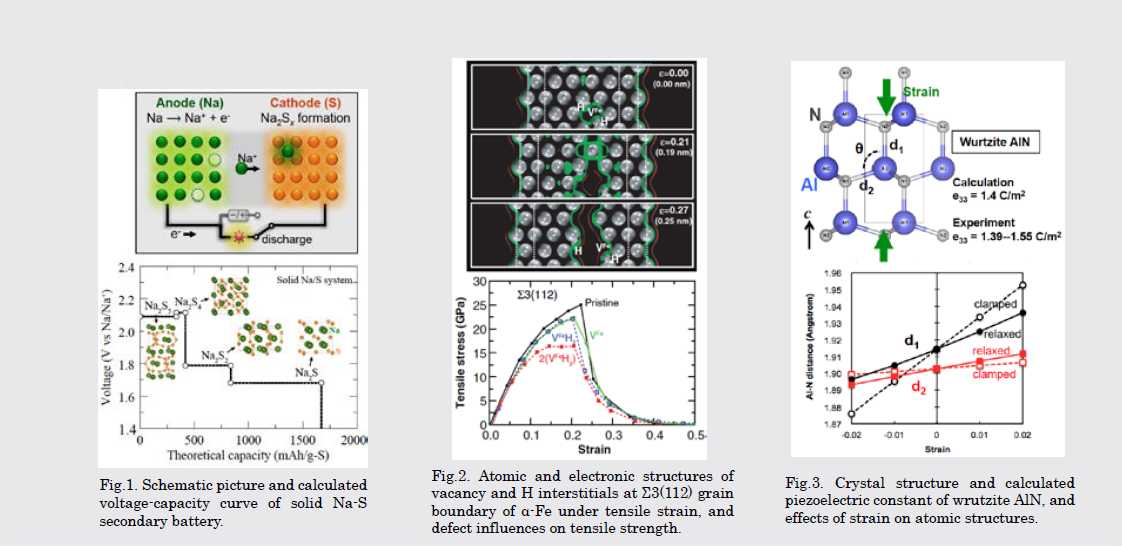 Fig.1. Schematic picture and calculated voltage-capacity curve of solid Na-S secondary battery. Fig.2. Atomic and electronic structures of vacancy and H interstitials at Σ3(112) grain boundary of α-Fe under tensile strain, and defect influences on tensile strength. Fig.3. Crystal structure and calculated piezoelectric constant of wrutzite AlN, and effects of strain on atomic structures.
文献 / Publications
J. Phys. Soc. Jpn. 83, 124713 (2014). Phys. Rev. B 90, 014430 (2014). Phys. Rev. B 88, 144107 (2013). J. Phys. Soc. Jpn. 82, 065004 (2013). Jpn. J. Appl. Phys. 52, 04CD11 (2013). J. Opt. Soc. Am. B 29, 2410 (2012). Appl. Phys. Lett. 98, 042102 (2011).
研究者HP
momidasanken.osaka-u.ac.jp