CLS
Laboratory for Chemistry and Life Science, Institute of Innovative Research, Tokyo Institute of Technology
東京工業大学
科学技術創成研究院
化学生命科学研究所

LAST UPDATE 2017/02/26
研究者氏名


Researcher Name

田巻孝敬

 Takanori TAMAKI

講師

 Lecturer

所属


Professional Affiliation

東京工業大学科学技術創成研究院化学生命科学研究所
Laboratory for Chemistry and Life Science, Institute of Innovative Research, Tokyo Institute of Technology

分子機能化学領域

Molecular functions

研究キーワード


Research Keywords

材料システム設計
エネルギー材料
生体材料
化学工学
Systematic material design
Energy materials
Biomaterials
Chemical Engineering
研究テーマ


Research Subject

生体分子を用いた材料システム設計


Systematic material design using biomolecules
研究の背景 Background
酵素やDNAなどの生体分子を構成要素に用いる材料開発において目的性能を実現するためには、生体分子が有する優れた特性を十分に活用する必要があります。そこで、生体分子と他の構成要素を効果的に結び付ける材料システム設計を行います。具体的には、酵素を触媒に用いるバイオ燃料電池の高出力・高電流密度化へ向けた研究と、DNAの特異的な分子認識能を活用したDNAと感温性ポリマーのコンジュゲート体による分子認識材料の開発に取組んでいます。
We have proposed systematic material design to fully utilize the characteristics of biomolecules in enzymatic biofuel cells and DNAconjugated stimuli-responsive membranes. Enzymatic biofuel cells can use non-toxic fuels like glucose and ethanol, and have the potential to power portable devices. However, their power density is low compared with conventional fuel cells due to their low current density. Another research topic is DNA-conjugated stimuli-responsive membranes that coordinate molecular recognition properties of DNA and actuator properties of thermoresponsive polymer in pores of a porous substrate.
研究の目標 Outcome
酵素型バイオ燃料電池の高出力・高電流密度化では、酵素電極中の律速過程を解明し、電極構造を制御することにより、酵素が有する高い反応速度を十分に活用する電極設計を行っています。DNAを用いる分子認識材料の開発では、アクチュエーターとして機能する感温性ポリマーとDNAのコンジュゲート体を多孔質基材の細孔中に固定化することで、DNAの分子認識による構造変化をトリガーとして膜の開閉を制御する分子認識ゲート膜を開発しています。
The current density of enzymatic biofuel cells can be increased to reach a value comparable with that observed in conventional direct methanol fuel cells, considering the high intrinsic activity of enzymes. The rate-limiting step in enzyme electrodes is overcome by structural control of the electrodes. DNA-conjugated stimuli-responsive membranes are designed to change its permeability in response to the presence of a target molecule recognized by the conjugated DNA.
研究図
Research Figure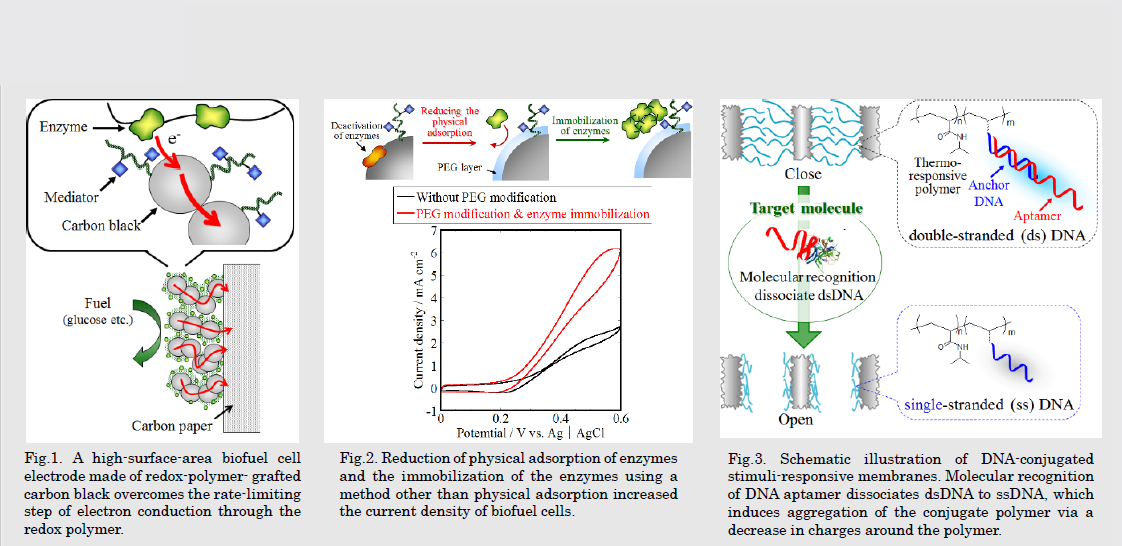 Fig.1. A high-surface-area biofuel cell electrode made of redox-polymer- grafted carbon black overcomes the rate-limiting step of electron conduction through the redox polymer. Fig.2. Reduction of physical adsorption of enzymes and the immobilization of the enzymes using a method other than physical adsorption increased the current density of biofuel cells.Fig.3. Schematic illustration of DNA-conjugated stimuli-responsive membranes. Molecular recognition of DNA aptamer dissociates dsDNA to ssDNA, which induces aggregation of the conjugate polymer via a decrease in charges around the polymer.
文献 / Publications
J. Electrochem. Soc., 161 (13), H3095 (2014). J. Chem. Eng. Jpn., 47 (8), 704 (2014). Ind. Eng. Chem. Res., 49 (14), 6394 (2010). Polym. Chem., 5 (16), 4612 (2014). Chem. Lett., 42 (12), 1568 (2013). Soft Matter, 9 (12), 3331 (2013).
研究者HP
tamaki.t.aam.titech.ac.jp