RIES
Research Institute for Electronic Science, Hokkaido University
北海道大学
電子科学研究所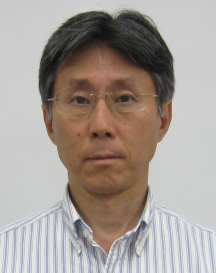 LAST UPDATE 2017/02/25
研究者氏名


Researcher Name

玉置信之

 Nobuyuki TAMAOKI

教授

 Professor

所属


Professional Affiliation

北海道大学電子科学研究所
Research Institute for Electronic Science, Hokkaido University

物質科学研究部門 スマート分子材料研究分野

Laboratory of Smart molecules, Division of Material and Molecular Sciences

研究キーワード


Research Keywords

分子機械
キラリティー
フォトクロミズム
分子組織科学
Molecular Machine
Chirality
Photochromism
Science of Molecular Organization
研究テーマ


Research Subject

光駆動分子機械の合成


Synthetic approach toward light-driven molecular machines
研究の背景 Background
分子の荷物を運んだり力を発生する分子機械は、からだの中で能動的に薬剤を運搬したり、患部を自発的に修復したりする次世代の治療を可能とする夢の物質です。自然は、モータータンパク質と呼ばれる分子機械を生み出し、生体内で化学エネルギーを用いて様々な機械的な仕事を実現しています。一方で、有機合成化学や遺伝子工学の発展により、様々な機能分子を人工的に造ることが可能になってきています。しかし、人の思いのままに動く分子機械を創造することは、未だに人類によって達成されていない重要な課題です。
A molecular machine which can transport molecular loads or generate power is a dream material enabling actively delivering medicines to or autonomously repairing the diseased parts in our body. Nature has developed molecular machines, namely motor proteins, and attains various mechanical works using chemical energy in the living bodies. On the other hand human being has developed synthetic chemistry and the advancement of genetic engineering to enable to create artificially various functional molecules. However, the creation of molecular machines functioning at our will is still an unattained important target for us.
研究の目標 Outcome
人の思いのままに動く分子機械を構築することを目的としています。その際、光をエネルギー源や人からの命令を伝えるシグナルとして用いることは、目的を達成するために最良の方法であると考えています。私達は、光で駆動される、もしくは、光で運動が制御される分子機械を合成化学的にもしくは半合成化学的に創造することを目標とします。
The purpose of our study is to develop molecular machines functioning at our will. We think that the usage of light as the source of energy and also as the signal transmitting our command is the best way to accomplish our purpose. We aim the synthetic or semisynthetic creation of molecular machines whose motion is driven or switched by means of light irradiation.
研究図
Research Figure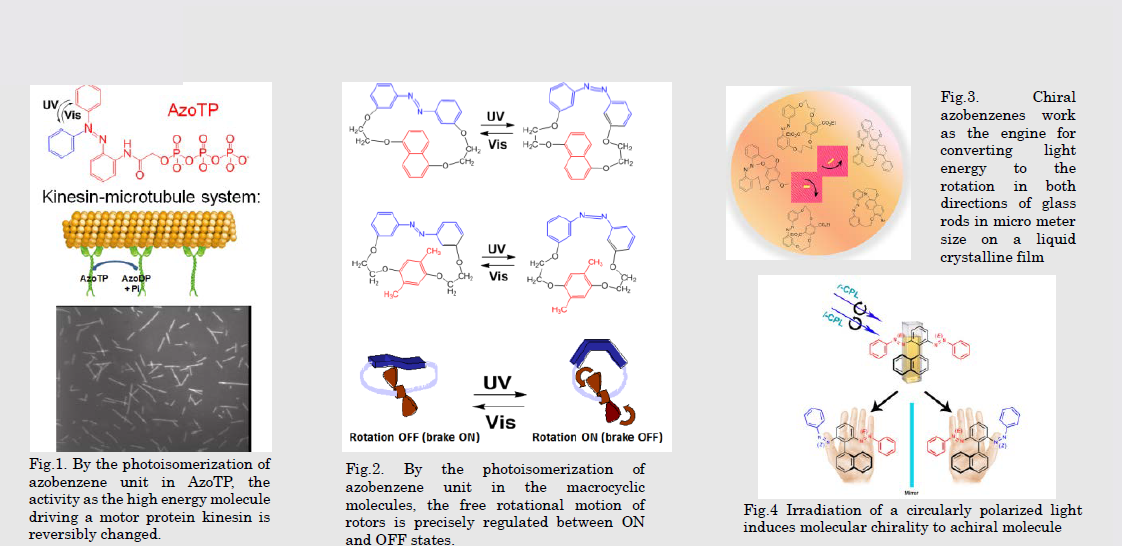 Fig.1. By the photoisomerization of azobenzene unit in AzoTP, the activity as the high energy molecule driving a motor protein kinesin is reversibly changed. Fig.2. By the photoisomerization of azobenzene unit in the macrocyclic molecules, the free rotational motion of rotors is precisely regulated between ON and OFF states.Fig.3. Chiral azobenzenes work as the engine for converting light energy to the rotation in both directions of glass rods in micro meter size on a liquid crystalline film Fig.4 Irradiation of a circularly polarized light induces molecular chirality to achiral molecule
文献 / Publications
ACS Nano, 8, 4157 (2014),. Chem. Commun., 49, 9935 (2013). Chem. Commun., 48, 7625 (2012). Chem. Soc., 6, 873 (2015). Chem.Eur. J., 18, 12337 (2012). Angew. Chem. Int. Ed., 50, 11729 (2012). Chem.Eur. J., 17, 7304 (2011). Chem. Eur. J., 16, 3489 (2010). J. Am. Chem. Soc., 130, 11409 (2008).
研究者HP
tamaokies.hokudai.ac.jp