IMRAM
Institute of Multidisciplinary Research for Advanced Materials, Tohoku University
東北大学
多元物質科学研究所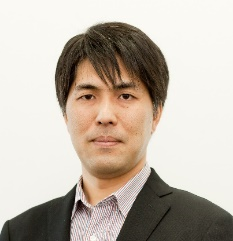 LAST UPDATE 2021/05/01
研究者氏名


Researcher Name

水上進

 Shin MIZUKAMI

教授

 Professor

所属


Professional Affiliation

東北大学多元物質科学研究所
Institute of Multidisciplinary Research for Advanced Materials, Tohoku University

有機・生命科学研究部門 細胞機能分子化学研究分野

Division of Organic- and Bio-materials Research, Cell Functional Molecular Chemistry

研究キーワード


Research Keywords

バイオイメージング
細胞機能制御
光機能性分子
Bioimaging
Regulation of cellular functions
Photofunctional molecules
研究テーマ


Research Subject

機能性分子設計による細胞機能の可視化と制御


Imaging and regulation of cellular functions with functional molecule design
研究の背景 Background
生体内では多くの生体分子が相互作用することで、多様な機能を発現しています。生物を正確に理解するには、生体分子の挙動や機能を他の分子との相互作用が保たれた状態、すなわち生きた状態で調べることが重要になります。近年、化学的なアプローチに基づいて、生命機能を調べるChemicalbiologyと呼ばれる学問が注目を集めています。
In a living body or cell, various biomolecules function by interacting with other molecules. To understand the real biological functions, it is essential to investigate the activities or behaviors of the target biomolecules in living systems, where all of these interactions with other biomolecules are maintained. Recently, a new research field "Chemical biology", which is a study of biomolecular functions on the basis of chemical approaches has been attracting increasing attention.
研究の目標 Outcome
有機化学・高分子化学・蛋白質化学等に基づいて新たな機能性分子を設計・合成し、生体機能の探索技術を開発しています。具体的には、酵素活性や細胞内シグナル伝達などの生体機能を選択的に可視化する蛍光プローブ、ケージド化合物/フォトクロミック化合物を用いた蛋白質活性の光制御技術などを開発し、最先端のイメージング技術と組み合わせることにより、生きた状態における生体分子の機能や疾患機構の本質に迫ります。
Using multidisciplinary chemistry such as organic chemistry, macromolecular chemistry, and protein chemistry, we design and synthesize functional molecules, and apply them to image or regulate behaviors or functions of target biomolecules. By combining these functional compounds with the latest imaging technologies, we aim to clarify essential mechanisms of life and various diseases.
研究図
Research Figure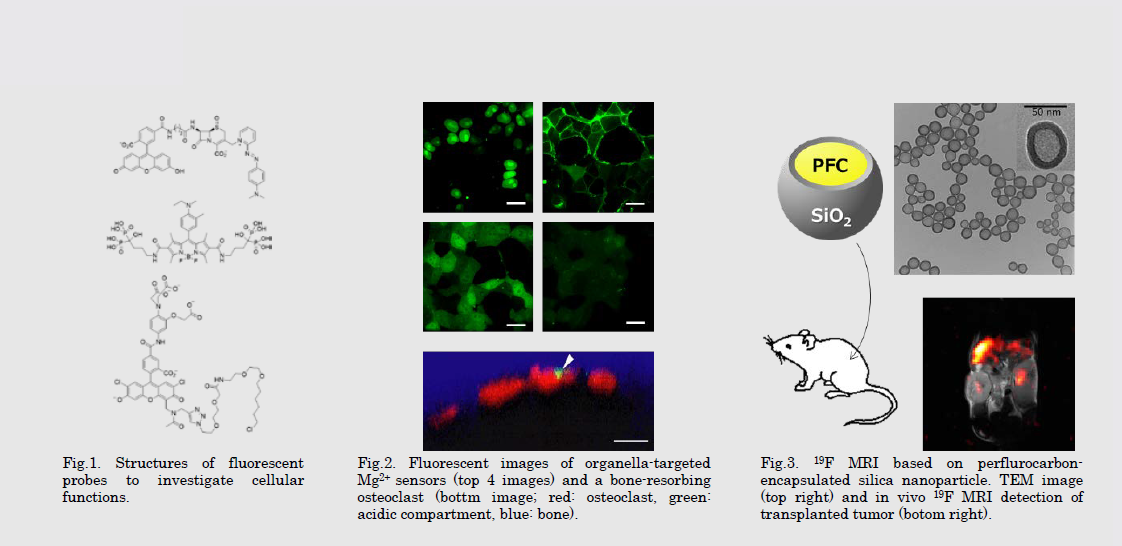 Fig.1. Structures of fluorescent probes to investigate cellular functions. Fig.2. Fluorescent images of organella-targeted Mg2+ sensors (top 4 images) and a bone-resorbing osteoclast (bottm image; red: osteoclast, green: acidic compartment, blue: bone). Fig.3. 19F MRI based on perflurocarbonencapsulated silica nanoparticle. TEM image (top right) and in vivo 19F MRI detection of transplanted tumor (botom right).
文献 / Publications
Nat. Chem. Biol., 12, 579 (2016). Angew. Chem. Int. Ed., 524, 1007 (2015). Angew. Chem. Int. Ed. 53, 1008 (2014). Acc. Chem. Res. 47, 247 (2014). J. Am. Chem. Soc. 134, 1623 (2012). J. Am. Chem. Soc. 133, 17772 (2011). J. Am. Chem. Soc. 132, 9524 (2010).
研究者HP
s-mizutagen.tohoku.ac.jp