IMRAM
Institute of Multidisciplinary Research for Advanced Materials, Tohoku University
東北大学
多元物質科学研究所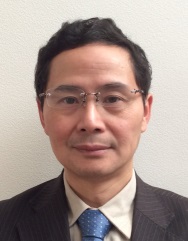 LAST UPDATE 2021/05/03
研究者氏名


Researcher Name

所属


Professional Affiliation

東北大学多元物質科学研究所
Institute of Multidisciplinary Research for Advanced Materials, Tohoku University

無機材料研究部門 環境無機材料化学研究分野

Division of Inorganic Material Research, Environmental Inorganic Materials Chemistry 

研究キーワード


Research Keywords

ソルボサーマル
エコマテリアル
環境応答
新機能探索
Solvothermal
Eco- materials
Environmental responsive
Exploration of new functionality
研究テーマ


Research Subject

グリーンプロセスによるセラミックスの環境応答機能性創出


Creation of environmental responsive functionality of ceramics by green process
研究の背景 Background
セラミックスの環境応答機能の高度化は新しい産業応用の創出に重要である。セラミックス材料の機能性は組成及び粒子サイズ/粒子形態等に強く依存するため、効率的な合成プロセス開発が求められている。溶液反応による形態制御及び結晶化度の高い微粒子の合成は材料機能性向上に重要な役割を果たしている。
Improvement of environmental responsive functionality of ceramics is important to the creation of new industrial applications. Because the functionality of the ceramic material strongly related to their composition and particle size / morphology, the efficient synthesis process development is important and required. The solution reaction process plays an important role in the synthesis of morphology-controllable nanoparticles with high crystallinity and improved functionality
研究の目標 Outcome
環境にやさしいソフトケミカルプロセスを用い、酸化物・複合酸化物を中心となる無機材料の組成・形態及び機能性制御を行い、光・電気・化学機能材料としての応用を検討すると共に、材料の新規機能性・マルチ機能性の実現を目指す。最近の研究は親水性薄膜、フルスペクトル応答光触媒、ガスセンサー、導電性材料及びバイオ関連材料に焦点を当てている。
The main objective of the research is to precise control the composition, morphology and functionality of inorganic materials consist of oxides or composite oxides via an environmentally friendly soft chemical process. The recent researches specially focus on the development and the applications of hydrophilic thin film, full-spectra light induced photocatalysts, gas sensor materials, conductive materials and biology related material, etc.
研究図
Research Figure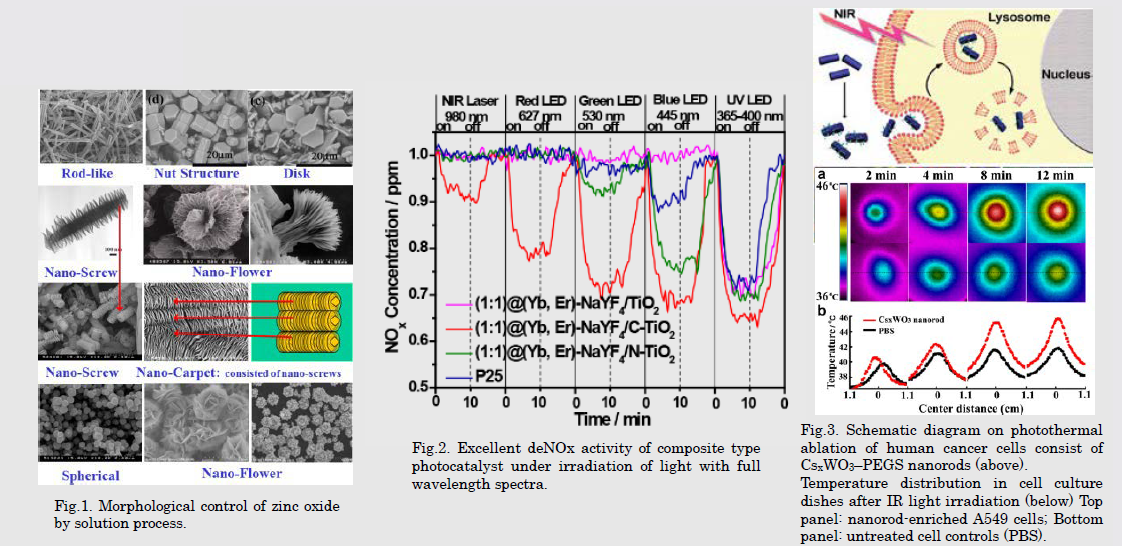 Fig.1. Morphological control of zinc oxide by solution process. Fig.2. Excellent deNOx activity of composite type photocatalyst under irradiation of light with full wavelength spectra. Fig.3. Schematic diagram on photothermal ablation of human cancer cells consist of CsxWO3–PEGS nanorods (above). Temperature distribution in cell culture dishes after IR light irradiation (below) Top panel: nanorod-enriched A549 cells; Bottom panel: untreated cell controls (PBS).
文献 / Publications
J. Catal.,297 , 65 ( 2013); J. Phys. Chem. C, 117, 8345 (2013); J.Mater.Chem. A, 1, 1123 (2013); Phys. Chem. Chem. Phys., 15, 20633 (2013); Nanoscale, 5, 6469, (2013); Nanoscale, 5, 8184 (2013); Scientific Reports, 3, 2918 (2013); Appl. Catal. B, Envoron., 156-157, 257 (2014); Nanoscale, 7, 1161 (2015).
研究者HP
yin.shu.b5tohoku.ac.jp