ISIR
The Institute of Scientific and Industrial Research, Osaka University
大阪大学
産業科学研究所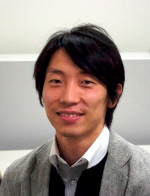 LAST UPDATE 2017/02/26
研究者氏名


Researcher Name

植村隆文

 Takafumi UEMURA

特任准教授

 Specially Appointed Associate Professor

所属


Professional Affiliation

大阪大学産業科学研究所
The Institute of Scientific and Industrial Research, Osaka University

先進電子デバイス研究分野 関谷研究室

Sekitani Lab., Advanced Electronic Devices

研究キーワード


Research Keywords

フレキシブルエレクトロニクス
薄膜電子回路応用
有機エレクトロニクス
有機半導体物性
Flexible electronics
Development of thin-film electronic circuits and their application
Organic electronics
Solid-state physics of organic semiconductors
研究テーマ


Research Subject

有機半導体の物性理解に基づいたフレキシブル電子デバイス製造プロセス・応用技術の開発


Development of fabrication processes and application technologies for organic flexible devices and understanding for physics of organic semiconductors
研究の背景 Background
現在、あらゆる社会システムの効率化を目的として、実世界とサイバー空間を繋ぐ技術、サイバーフィジカルシステム(CyberPhysicalSystem;CPS)の構築が進められています。そのインターフェイスを担う電子デバイスには、高い省電力性能、低コスト製造、大面積性など、更なる利便性や環境制約を鑑みた多様性が求められています。
In the near feature, the various information of real space will be spread over cyber space through cyber physical system (CPS), which will promote the efficiency of every social system. In order to realize the matured CPS, the development of electric devices for the interface between the real and cyber space is very important. In the next-generation electronic devices, it is needed to consider their diverse functionalities and environmental sustainability, such as low-power consuming, low cost fabrication and large-area processability.
研究の目標 Outcome
本研究では、環境負荷が小さい製造プロセス、高い機械的柔軟性を有する有機半導体技術を基盤とし、フレキシブルエレクトロニクスの基礎科学の開拓と、実社会に貢献するシステムの実現を目的としています。具体的応用例として、医療用ウェアラブル診断システム、インフラ診断システムなどの開発を行います。
In this research, the main interest is a development of technology and understanding of fundamental physics for organic semiconductors, which has unique functionalities such as low-cost fabrication process and good mechanical flexibility. The object of this research includes the development of application system such as wearable medical diagnosis devices and wireless sensor systems for infrastructures.
研究図
Research Figure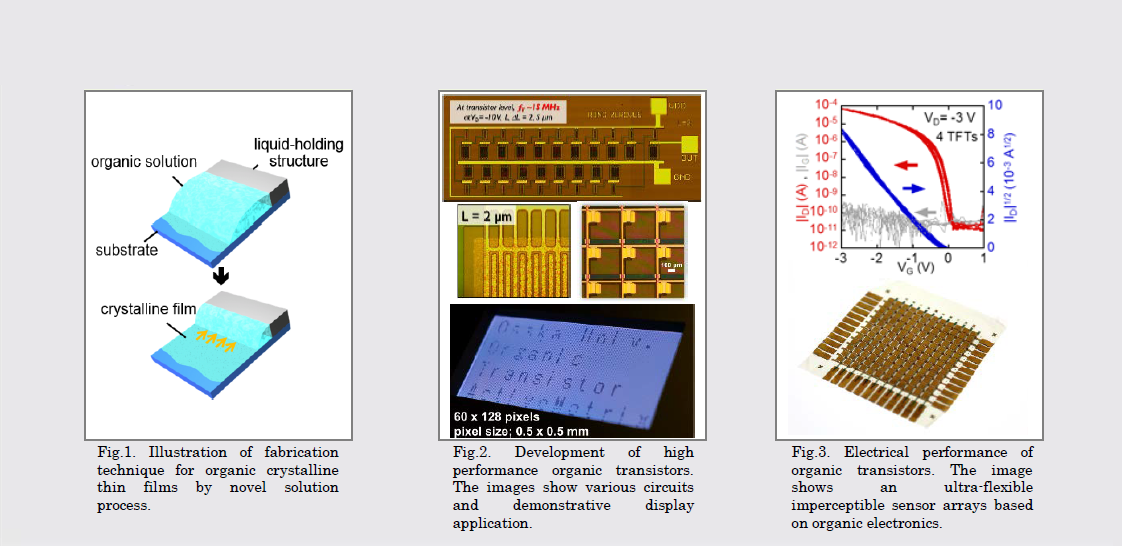 Fig.1. Illustration of fabrication technique for organic crystalline thin films by novel solution process. Fig.2. Development of high performance organic transistors. The images show various circuits and demonstrative display application. Fig.3. Electrical performance of organic transistors. The image shows an ultra-flexible imperceptible sensor arrays based on organic electronics.
文献 / Publications
Adv. Mater. 2014, 26, 1., Phys. Rev. B 2012, 85, 035313., Adv. Mater. 2011, 23, 1626., Adv. Mater. 2010, 22, 3938., Appl. Phys. Express 2009, 2, 111501.
研究者HP
uemura-tsanken.osaka-u.ac.jp