IMCE
Institute for Materials Chemistry and Engineering, Kyushu University
九州大学
先導物質化学研究所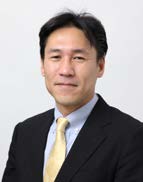 LAST UPDATE 2017/02/25
研究者氏名


Researcher Name

林潤一郎

 Jun-ichiro HAYASHI

教授

 Professor

所属


Professional Affiliation

九州大学先導物質化学研究所
Institute for Materials Chemistry and Engineering, Kyushu University

先端素子材料部門・ミクロプロセス制御分野

Laboratory of Microprocess Control, Division of Advanced Device Materials

研究キーワード


Research Keywords


Low rank carbon resources such as lignite and biomass
Thermochemical and thermocatalytic conversion
Syngas and chemicals
Carbon materials
Reaction and reactor design
Local energy/material conversion
研究テーマ


Research Subject

低品位炭素資源のシーケンシャル熱化学・触媒化学変換プロセス


Sequential thermochemical and catalytic conversion processes
研究の背景 Background
褐炭などの低品位炭は,それが持つ特有の物性(負の物性)によって有効な利用が進んでいませんが,わが国にとっては資源安全保障の観点から極めて重要な資源であり,物性を「正の物性」として活用できる変換技術が求められます。バイオマスは,燃料としては褐炭と類似の物性が少なくない一方,化学原料として高いポテンシャルを有する貴重な国産資源です。
Low rank coals such as lignites and brown coals, which are important carbon resources form a viewpoint of energy security, have particular properties with negative impacts on conventional conversion technology. Effective use of those resources has been realized within a limited range, but should be done by taking most advantage of their properties. While biomass has properties (as a fuel) similar to those of lignites, it has a quite high potential as feedstock of chemicals and materials. In addition, it is a domestic carbon resource, which is essential in future evolution of primary industries.
研究の目標 Outcome
物理/化学的な改質,熱分解,ガス化,炭化,溶剤抽出(反応溶解),触媒変換等のプロセスの開発,これらに逐次並列的組み合わせと最適化による「付加価値連鎖型」の褐炭,バイオマスの変換シーケンス・ネットワークの構築,コプロダクション(同時のエネルギー変換,ケミカルズ・素材等製造)を最終目標とする反応工学的研究を展開しています。
Experimental and numerical studies have been in continuation on physicochemical upgrading, and catalytic, thermal and electrochemical conversions (pyrolysis, gasification, carbonization, etc.) of lignite and biomass based on chemical reaction engineering. The ultimate goal of those studies is proposal/demonstration of 'high value added' coproduction processes and their sequences/networks.
研究図
Research Figure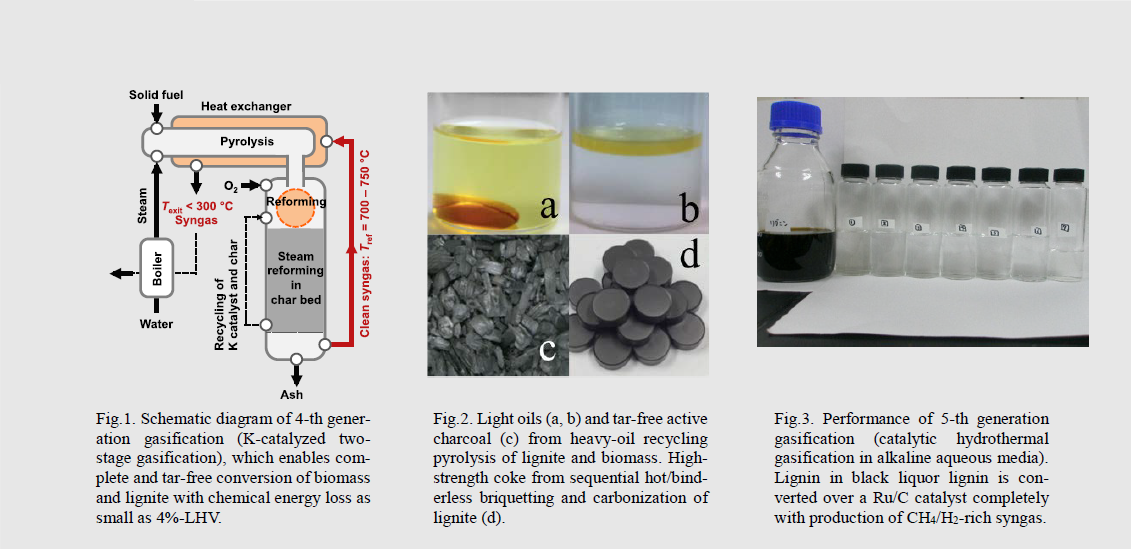 Fig.2. Light oils (a, b) and tar-free active charcoal (c) from heavy-oil recycling pyrolysis of lignite and biomass. Highstrength coke from sequential hot/binderless briquetting and carbonization of lignite (d). Fig.1. Schematic diagram of 4-th generation gasification (K-catalyzed twostage gasification), which enables complete and tar-free conversion of biomass and lignite with chemical energy loss as small as 4%-LHV. Fig.3. Performance of 5-th generation gasification (catalytic hydrothermal gasification in alkaline aqueous media). Lignin in black liquor lignin is converted over a Ru/C catalyst completely with production of CH4/H2-rich syngas.
文献 / Publications
Low temperature Gasification of Biomass and Lignite: Consideration of Key Thermochemical Phenomena, Rearrangement of Reactions, and Reactor Configuration. Jun-ichiro Hayashi, Shinji Kudo, Hyun-Seok Kim, Koyo Norinaga, Koichi Matsuoka, Sou Hosokai. Energy & Fuels 2014, 28, 4–21.
研究者HP
Junichiro_hayashicm.kyushu-u.ac.jp