ISIR
The Institute of Scientific and Industrial Research, Osaka University
大阪大学
産業科学研究所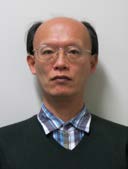 LAST UPDATE 2017/02/26
研究者氏名


Researcher Name

岡島俊英

 Toshihide OKAJIMA

准教授

 Associate Professor

所属


Professional Affiliation

大阪大学産業科学研究所
The Institute of Scientific and Industrial Research, Osaka University

生体分子反応科学研究分野

Department of Biomolecular Reaction

研究キーワード


Research Keywords

酵素反応機構
X線結晶解析
ドラッグデザイン
翻訳後修飾
Enzymatic reaction
X-ray crystallography
Drug design
Posttranslational modification
研究テーマ


Research Subject

薬剤耐性菌に有効な新規抗菌剤の開発


Development of novel antibiotics effective for multiple drug resistant bacteria
研究の背景 Background
既存の抗生物質がほとんど効かない薬剤耐性病原菌の出現と蔓延は、治療困難な感染症を引き起こし、近年、国内外で大きな社会問題となっている。しかしながら、抗菌剤の研究開発は様々な理由から長年停滞している。新しいアイディアに基づいて、耐性菌にも有効な新規抗菌剤を開発することが急務となっている。
Pathogenic bacteria that have resistant against various conventional antibiotics cause intractable infection to human. Recently, the emergence of the antibiotic-resistant bacteria threatens the public health worldwide. However, the development of novel antibiotics has been delayed for long time because of economical and technical problems. New concept is expected to develop novel antibiotics effective even on the antibiotic-resistant bacteria.
研究の目標 Outcome
X線結晶解析などの構造生物学的手法を基盤として、ドラッグデザインを行い、細菌の情報伝達系を標的とする阻害型薬剤を開発する。代謝系を標的とする既存の抗菌剤とは異なり、より上位の情報伝達系を標的とする。細菌の情報伝達系には、病原性発現や細菌の生存に必須な系を含まれるため、その阻害剤は薬剤耐性菌にも有効な新規抗菌剤あるいは病原性発現の阻害剤となりうる。加えて、耐性菌の出現頻度も低い可能性がある。
The research aim is to develop novel antibiotics targeting bacterial signal transduction through structure-based drug design using X-ray crystal structures of target proteins. Unlike conventional antibiotics targeting bacterial metabolic enzymes, such novel drugs can depress bacterial viability at higher levels. The bacterial signal transduction system involves in the virulence and bacterial growth in human body. Therefore, the inhibitors can be potential antibiotics that are often effective even against the drug-resistant bacteria. In addition, it is possible to reduce the emergence of the drug-resistant bacteria.
研究図
Research Figure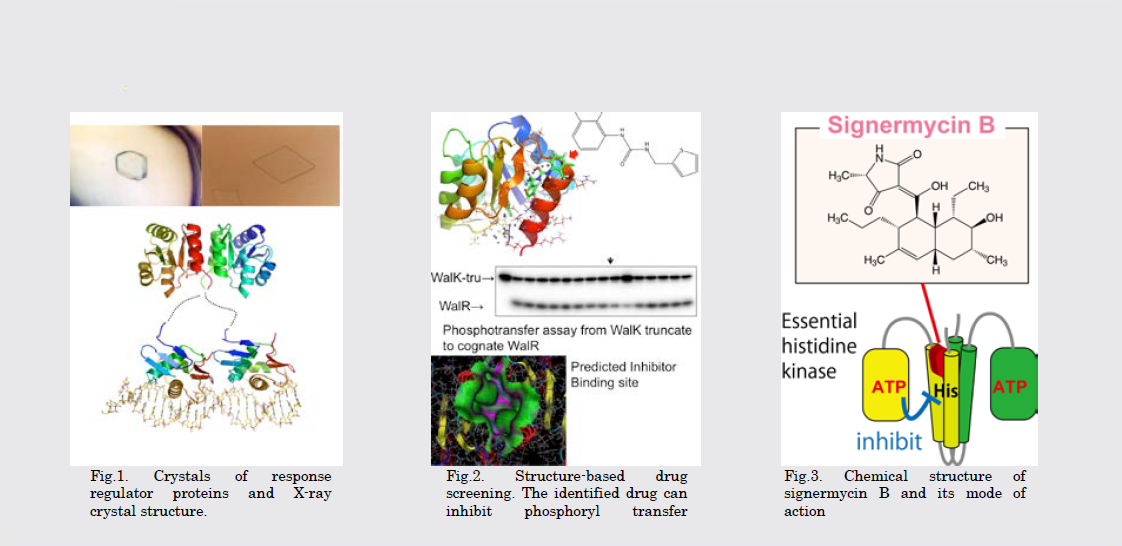 Fig.1. Crystals of response regulator proteins and X-ray crystal structure. Fig.2. Structure-based drug screening. The identified drug can inhibit phosphoryl transfer Fig.3. Chemical structure of signermycin B and its mode of action
文献 / Publications
FEBS Lett. 582, 3434 (2008). Biosci. Biotechnol. Biochem. 74, 1901 (2010). Antimicrob. Agents Chemother. 56, 3657 (2012). Acta Crystallogr. D. 69, 2483 (2013). Mol. Pharmacol. 86, 736 (2014).
研究者HP
tokajimasanken.osaka-u.ac.jp