ISIR
The Institute of Scientific and Industrial Research, Osaka University
大阪大学
産業科学研究所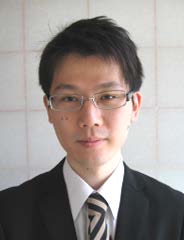 LAST UPDATE 2017/02/26
研究者氏名


Researcher Name

小野尭生

 Takao ONO

助教

 Assistant Professor

所属


Professional Affiliation

大阪大学産業科学研究所
The Institute of Scientific and Industrial Research, Osaka University

半導体量子科学研究分野

Department of Semiconductor Electronics

研究キーワード


Research Keywords

バイオデバイス
ポリマー材料の微細加工
1分子イメージング・1分子検出
カーボンナノチューブ・グラフェン
Biodevice, Lab on a chip, μ-TAS
Microfabrication of polymer materials
Single-molecule imaging, Single-molecule detection
Carbon nanotube, Graphene
研究テーマ


Research Subject

生体分子の高感度検出のためのバイオデバイスの開発


Biodevice for high-sensitive detection of biomolecules
研究の背景 Background
バイオデバイスは、マイクロ・ナノスケールの微細構造を利用して生化学分析・医療診断などを行うツールです。デバイス内部で反応体積や観察領域を局所化することで、高感度な生体分子検出や、生化学反応挙動の高精度観察が可能になり、がんなどの疾患の早期診断や生体分子の反応メカニズムの解明につながります。
Biodevice is a promising tool for biochemical assay, clinical diagnostics and so on, due to its micro/nano structures. Downsizing the reaction volume and/or observation region improves the detection sensitivity for biomolecules and the measurement precision for biochemical reactions. It leads to the early diagnostics for diseases and the elucidation of the reaction mechanisms of biomolecules.
研究の目標 Outcome
生体分子の1分子レベルでの検出・観察のためのバイオデバイスを開発しています。デバイスの材料として光学的特性に優れた非晶質フッ素ポリマーを選択し、プラズマプロセスを主体とした高精度微細加工プロセスを構築して、サブミクロンスケールのポリマー製微小ウェル内での1分子観察・検出を実施しました。2015年から加入した産業科学研究所では、優れた電気特性を持つグラフェンなどのナノカーボンを上記のデバイスと組み合わせ、従来にない高感度・高機能なバイオデバイスを開発していきます。
Single-molecule detection device has been developed using an amorphous perfluoropolymer, which has unique optical properties. Microfabrication techniques for this material were established mainly using plasma processes. Detection and imaging of singlebiomolecule was carried out with the polymeric microwell array in sub-micron, attoliter scale. After joined ISIR in 2015, I will combine my biodevice with nanocarbon such as carbon nanotube and graphene, which has excellent electrical properties, and develop novel biodevice with higher sensitivity and functionality
研究図
Research Figure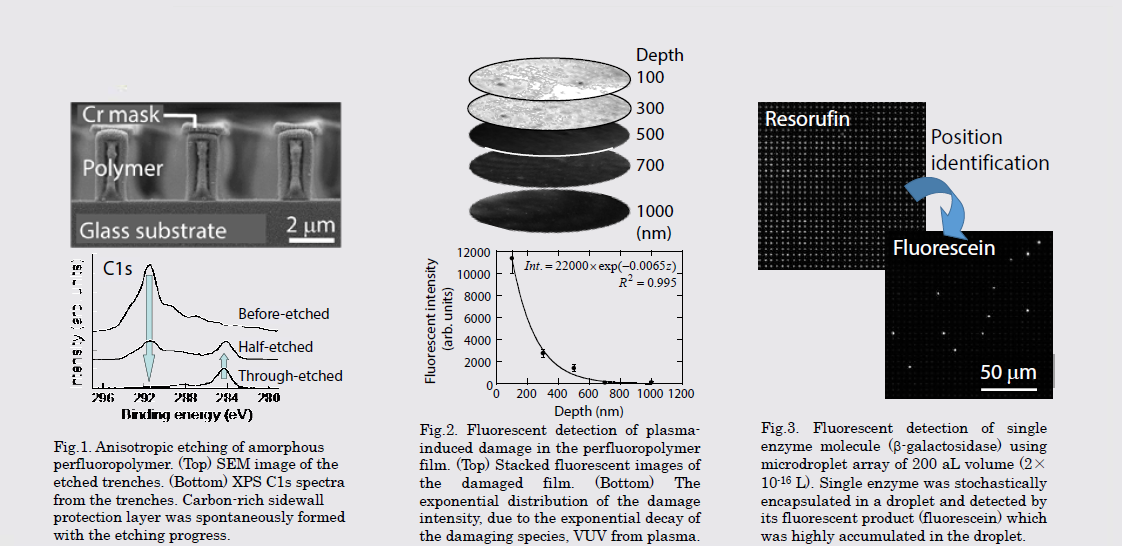 Fig.1. Anisotropic etching of amorphous perfluoropolymer. (Top) SEM image of the etched trenches. (Bottom) XPS C1s spectra from the trenches. Carbon-rich sidewall protection layer was spontaneously formed with the etching progress. Fig.2. Fluorescent detection of plasmainduced damage in the perfluoropolymer film. (Top) Stacked fluorescent images of the damaged film. (Bottom) The exponential distribution of the damage intensity, due to the exponential decay of the damaging species, VUV from plasma. Fig.3. Fluorescent detection of single enzyme molecule (β-galactosidase) using microdroplet array of 200 aL volume (2× 10-16 L). Single enzyme was stochastically encapsulated in a droplet and detected by its fluorescent product (fluorescein) which was highly accumulated in the droplet.
文献 / Publications
J. Photopolym. Sci. Technol., 27(3), 393 (2014). Trans. Mat. Res. Soc. Japan, 36(4), 553 (2011). J. Appl. Phys., 105, 013314 (2009). J. Photopolym. Sci. Technol., 22(5), 683 (2009).
研究者HP
t-ono sanken.osaka-u.ac.jp (半角スペースを除いてください)