RIES
Research Institute for Electronic Science, Hokkaido University
北海道大学
電子科学研究所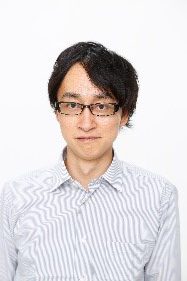 LAST UPDATE 2017/08/04
研究者氏名


Researcher Name

寺本央

 Hiroshi TERAMOTO

准教授

 Associate Professor

所属


Professional Affiliation

北海道大学電子科学研究所
Research Institute for Electronic Science, Hokkaido University

データ数理研究分野

Molecule & Life Nonlinear Sciences Laboratory

研究キーワード


Research Keywords

応用特異点論
化学反応動力学、モード選択性
非断熱遷移ダイナミクス
リー正準変換摂動理論
Applied Singularity Theory
chemical reaction dynamics, mode selectivity
Non-adiabatic dynamics
Lie canonical perturbation theory
研究テーマ


Research Subject

力学系理論による化学反応動力学の理解


Understandings of chemical reaction dynamics in terms of dynamical systems theory
研究の背景 Background
1914年Marcelinにより分子の反応過程が分子の座標と運動量で張られる相空間上の点の軌道として記述できる、ことが示されて以来、分子の反応を力学系理論により理解、制御することは、化学反応動力学における中心的な課題です。例えば、分子振動モードの選択的励起とそれによる選択的化学反応の実現、は標準的な熱統計力学的な観点のみでは成し得ず、その実現には力学系による観点が本質的です。応用上も重要な課題ですが、その理解、制御は少数の原子からなる分子に限られており、より複雑な分子系にも適用可能な方法論が望まれています。
To understand molecular reactions in terms of dynamical systems theory is one of the central issues in chemical reaction dynamics since 1914 when Marcelin represented reactions by the motion of points in the phase space. For example, selective excitation of a specific molecular vibrational mode and realization of a selective reaction in terms of it cannot be achieved only by the conventional thermal and statistical points of view but requires dynamical systems viewpoints. Despite its importance in application, its understandings and controls are limited to a few atomic molecular systems and methods applicable to more complicated systems are highly demanded.
研究の目標 Outcome
我々は、化学反応における振動エネルギー移動の障壁を同定するための従来法である正準変換摂動理論の改良、近年注目されているroaming反応と呼ばれる極限反応座標では理解し得ない化学反応過程の理解を可能とする円筒多様体の非摂動論的構成法、グラフラプラシアンを用いた数百自由度系にも適用可能な円筒多様体の構成法を開発してきた。これらの方法論を用い複雑分子系の反応選択性を第一原理的に解明するための通有的な方法論を構築しています。
We have improved the standard canonical perturbation theory to identify a bottleneck of energy transfers among molecular vibrational modes, developed a non-perturbative method to construct cylindrical manifolds that make it possible to understand roaming reactions, which cannot be understood in terms of intrinsic reaction coordinates, constructed a method to construct a cylindrical manifold that is applicable to systems with a few hundred degrees of freedom. The aim of this research is to establish versatile mathematical techniques to uncover the origin of reaction selectivity at the first principle.
研究図
Research Figure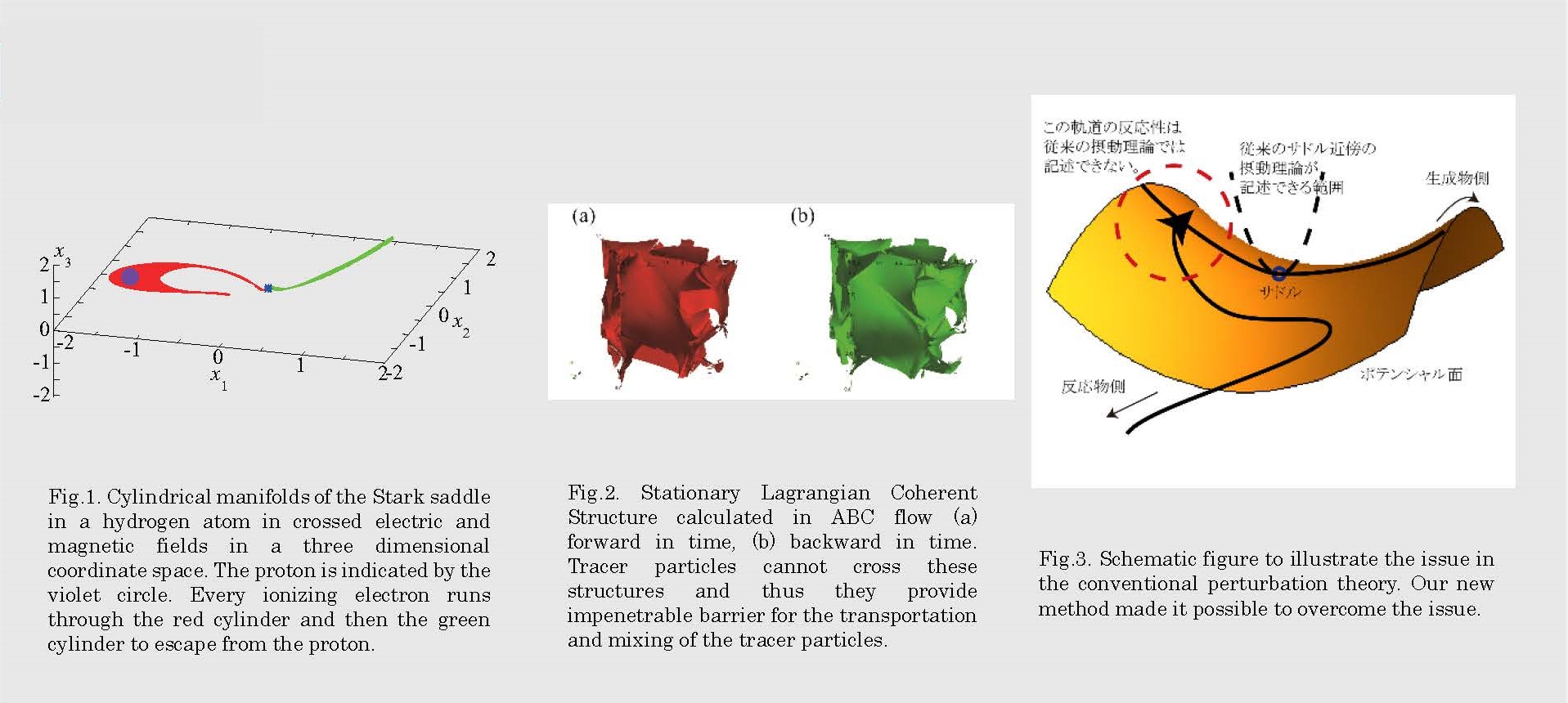 Fig.1. Cylindrical manifolds of the Stark saddle in a hydrogen atom in crossed electric and magnetic fields in a three dimensional coordinate space. The proton is indicated by the violet circle. Every ionizing electron runs through the red cylinder and then the green cylinder to escape from the proton. Fig.2. Stationary Lagrangian Coherent Structure calculated in ABC flow (a) forward in time, (b) backward in time. Tracer particles cannot cross these structures and thus they provide impenetrable barrier for the transportation and mixing of the tracer particles. Fig.3. Schematic figure to illustrate the issue in the conventional perturbation theory. Our new method made it possible to overcome the issue.
文献 / Publications
J. Math. Phys. 58, 073502 (2017), Nonlinearity 28, 2677 (2015), Phys. Rev. Lett. 115, 093003 (2015), Theor. Chem. Acc. 133, 1571 (2014), J. Chem. Phys. 141, 104907 (2014), Chaos 23, 043107 (2013), Phys. Rev. Lett. 106, 054101 (2011), J. Chem. Phys. 129, 094302 (2008).
研究者HP
teramotoes.hokudai.ac.jp