IMCE
Institute for Materials Chemistry and Engineering, Kyushu University
九州大学
先導物質化学研究所

LAST UPDATE 2023/08/08
研究者氏名


Researcher Name

堂ノ下将希

 Masaki DONOSHITA

助教

 Assistant Professor

所属


Professional Affiliation

九州大学先導物質化学研究所
Institute for Materials Chemistry and Engineering, Kyushu University

無機物質化学分野

Inorganic Materials Chemistry

研究キーワード


Research Keywords

機能・物性化学
分子ダイナミクス
Functional molecular chemistry
Molecular dynamics
研究テーマ


Research Subject

分子ダイナミクスに着目した分子集合体の構造・物性研究


Study on structures and physical properties of molecular assemblies focusing on molecular dynamics
研究の背景 Background
分子骨格に柔軟性を有する分子は、分子運動や外場応答といった動的な振る舞いを示し得る。
Molecules bearing structural flexibility can show dynamic behavior such as molecular motions and responses to external stimuli.
研究の目標 Outcome
動的な分子集合体の設計・合成に基づく、特異な構造・物性の発現を目指す。
To realize unique structures and physical properties based on the design and synthesis of dynamic molecular assemblies.
研究図
Research Figure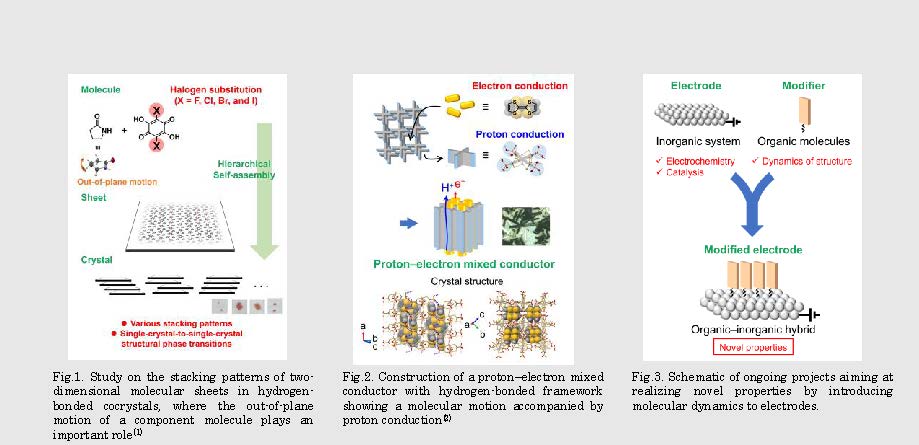 Fig.1. Study on the stacking patterns of two-dimensional molecular sheets in hydrogen-bonded cocrystals, where the out-of-plane motion of a component molecule plays an important role(1)

Fig.2. Construction of a proton–electron mixed conductor with hydrogen-bonded framework showing a molecular motion accompanied by proton conduction(2)

Fig.3. Schematic of ongoing projects aiming at realizing novel properties by introducing molecular dynamics to electrodes.
文献 / Publications
(1) M. Donoshita et al., Angew. Chem. Int. Ed. 2021, 60, 22839. (2) M. Donoshita et al., J. Am. Chem. Soc. 2022, 144, 17149.
研究者HP
donoshitams.ifoc.kyushu-u.ac.jp