RIES
Research Institute for Electronic Science, Hokkaido University
北海道大学
電子科学研究所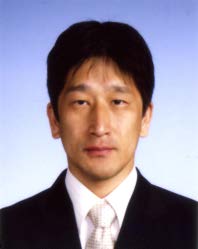 LAST UPDATE 2017/02/25
研究者氏名


Researcher Name

青沼仁志

 Hitoshi AONUMA

准教授

 Associate Professor

所属


Professional Affiliation

北海道大学電子科学研究所
Research Institute for Electronic Science, Hokkaido University

人間数理研究分野

Mathematical Modeling Lab.

研究キーワード


Research Keywords

適応行動
脳の設計原理
モデル構築
自律分散システム
Adaptive behaviour
Design principle of brain
Modelling
Decentralized autonomous systems
研究テーマ


Research Subject

動物の行動が実時間で適応的に発現する神経生理機構のシステム的理解


Systematic understanding of the neural mechanisms underlying emergence of adaptive behavior
研究の背景 Background
動物は周囲の環境から様々な刺激を受容し,状況に応じた行動を実時間で発現することができる.また,動物は同じ刺激に対して常に同じように応答するわけではなく,状況に応じて知覚を変え行動を変えている.その基盤には何があるのか?環境知覚と行動の関連を解明するためには,行動主体にとっての環境の意味を理解し,知覚された情報が脳でどのように処理され行動が発現するのかを理解する必要である.これは,神経生物学の分野でも未解決の課題であるとともにロボティクスの分野でも非常に重要な課題である.
Animals do not always show the same response to the same stimuli. They usually alter their behaviors in order to respond to the demands of changing circumstances. How do they sense changing environment, how do they process and integrate sensory information in the brain, and how do they produce motor control signals in the brain to emerge adaptive behavior? In order to elucidate these questions, we need to understand the meaning of the environment for the focused individuals. Then we elucidate design principle of the brain. This issue must be common interest between biologist and robotics engineers.
研究の目標 Outcome
脳における適応行動の実時間制御には,多様な感覚入力から状況に応じた情報を抽出し,その情報を記憶や経験によって形成された内部状態と照合し,実時間で運動制御信号を生成する働きが重要である.生物学の実験から得られた測定結果や知見にもとづいて動的なシステムモデルを構築し,その計算機シミュレーション実験を行い,適応行動の実時間性を創り出す脳の設計原理を明らかにする.
The main goal of the research is to understand how animals alter their behaviors in order to respond to the demands of changing circumstances. In order to understand neuronal mechanisms underlying adaptive behaviour, we focus on aggressive behaviour in insects. Insects provide us great model system to elucidate design principle of brain. We perform physiological experiments and then using the results, build dynamic system model to explain the biological functions and then simulate the models. This synthetic process accelerates systematic understanding the design principle of the brain that emerge real time adaptability in changing environment.
研究図
Research Figure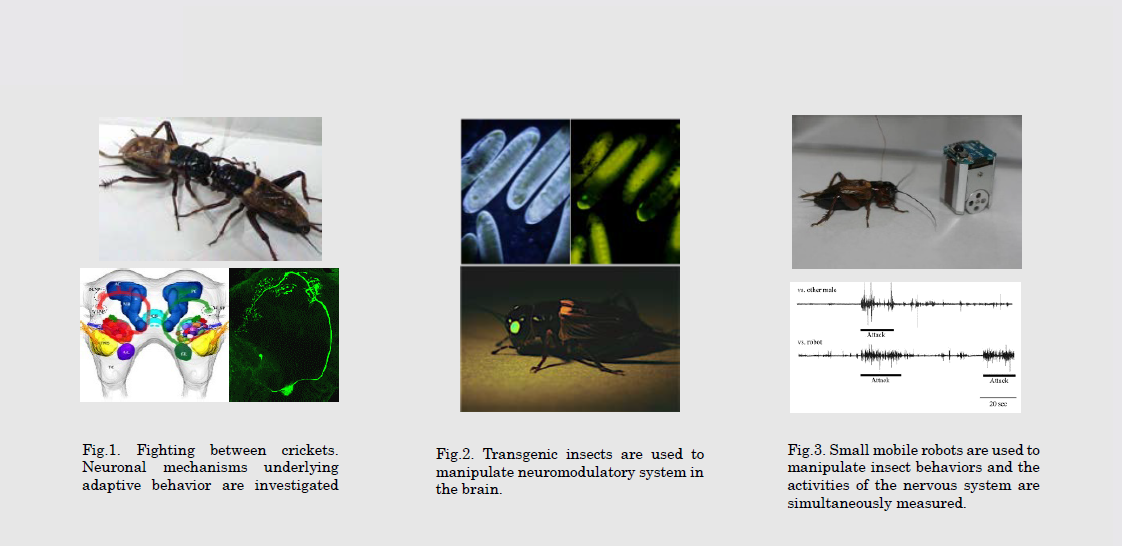 Fig.1. Fighting between crickets. Neuronal mechanisms underlying adaptive behavior are investigated i i Fig.2. Transgenic insects are used to manipulate neuromodulatory system in the brain. Fig.3. Small mobile robots are used to manipulate insect behaviors and the activities of the nervous system are simultaneously measured.
文献 / Publications
Front. Behav. Neurosci. 8:371, doi: 10.3389/fnbeh.2014.00371 (2014), Sci. Rep. 4: 4175, dio:10.1038/srep04175 (2014), J. Exp. Biol., 216: 2221-2228 (2013),
PLoS ONE, 7(8): e43377 (2013), Mol. BioSyst., 9: 2079-2084 (2013), Proc. Roy. Soc. B., 279 (1728): 535-542. (2012), J. Exp. Biol., 214: 2426-2434 (2011).
研究者HP
aones.hokudai.ac.jp