ISIR
The Institute of Scientific and Industrial Research, Osaka University
大阪大学
産業科学研究所

LAST UPDATE 2017/02/26
研究者氏名


Researcher Name

金崎順一

 Jun'ichi KANASAKI

准教授

 Associate Professor

所属


Professional Affiliation

大阪大学産業科学研究所
The Institute of Scientific and Industrial Research, Osaka University

第2研究部門(材料ビーム科学系)・励起物性科学研究分野

Division of Advanced Materials and Beam ScienceDepartment of Excited Solid-State Dynamics

研究キーワード


Research Keywords

半導体, 炭素系物質
超高速キャリア動力学
電子励起誘起原子過程
Semiconductors, Carbon materials
Ultrafast carrier dynamics
Dynamical atomic processes induced by electronic excitations
研究テーマ


Research Subject

半導体における超高速キャリア動力学の解明と制御
電子励起による新物質創成と原子操作
Elucidation and control of ultrafast carrier dynamics in photo-excited semiconductors
Novel phase formation and dynamical atomic processes controlled by electronic excitations
研究の背景 Background
光励起により物質中に生成した励起キャリアは、機能性デバイスの電子・スピン物性に関与しているのみならず、光触媒や太陽光発電、光誘起構造変化・相転移現象など種々の光誘起現象を引き起こす。光と物質との相互作用の一次過程が物質電子系の励起による非平衡キャリア生成とその緩和であることから、励起キャリアの超高速緩和動力学の解明や制御に向けた研究が世界的に注目を浴びています。
Excited carriers generated by photo-excitations are not only associated directly with electronic and spin properties of functional devices but also induce varieties of photo-induced phenomena, such as photo-catalyzed reactions, photovoltaic generation, photo-induced structural changes and phase transformations. Since the primary process of light-matter interaction is the generation of nonequilibrium excited carriers and the subsequent relaxation processes, considerable attention has been focused to the understanding and control of the fundamental dynamical processes of photogenerated carriers included in the photo-induced phenomena.
研究の目標 Outcome
光励起により物質中に注入された励起キャリアのエネルギー、運動量、スピンの緩和ダイナミクスを完全に決定すると共に、光励起により誘起される原子過程の物理的機構を理解することを主要な目標とする。さらに、電子励起効果の特異性を有効に活用することにより、物質中でのキャリアや構成原子の動的挙動を制御する先進的技術の基盤形成を形成し、熱的過程では得られない新規の構造と機能発現を目指す。
The main objectives are to completely determine the ultrafast energy-, momentum-, and spin-relaxation dynamics of photo-excited carriers in solids and to elucidate the fundamentals of underlying physics concerning the excitation-induced atomic processes. The research is also devoted to establish advanced technologies controlling carrier and atomic dynamics by fully exploiting electronic-excitation effects toward the realization of novel structure and function that never be attained by conventional thermal processes.
研究図
Research Figure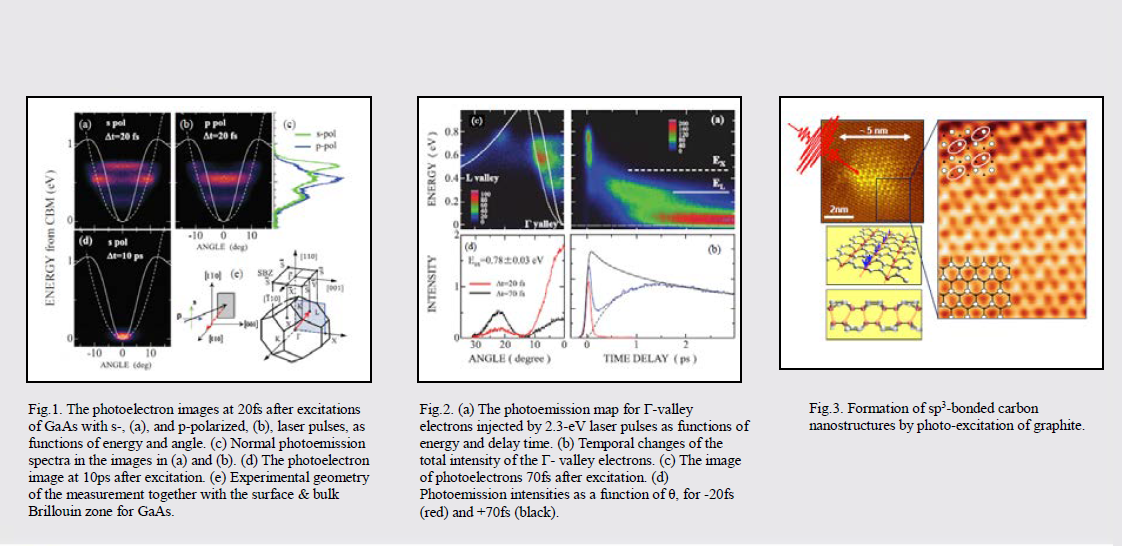 Fig.1. The photoelectron images at 20fs after excitations of GaAs with s-, (a), and p-polarized, (b), laser pulses, as functions of energy and angle. (c) Normal photoemission spectra in the images in (a) and (b). (d) The photoelectron image at 10ps after excitation. (e) Experimental geometry of the measurement together with the surface & bulk Brillouin zone for GaAs. Fig.2. (a) The photoemission map for Г-valley electrons injected by 2.3-eV laser pulses as functions of energy and delay time. (b) Temporal changes of the total intensity of the Г- valley electrons. (c) The image of photoelectrons 70fs after excitation. (d) Photoemission intensities as a function of θ, for -20fs (red) and +70fs (black). Fig.3. Formation of sp3-bonded carbon nanostructures by photo-excitation of graphite.
文献 / Publications
Physical Review B91, 045201 (2015). Physical Review Letters 113, 237401 (2014). Scientific Reports 4, 06849 (2014). Surface Science 629, 49(2014)
Physical Review B85, 085423 (2012). Surface Science 605, 1497(2011). Journal of Applied Physics 110, 103516(2011). Physical Review Letters 102, 087402(2009).
研究者HP
kanasakisanken.osaka-u.ac.jp