IMRAM
Institute of Multidisciplinary Research for Advanced Materials, Tohoku University
東北大学
多元物質科学研究所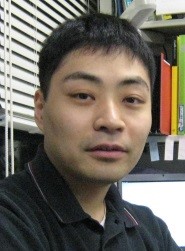 LAST UPDATE 2021/05/04
研究者氏名


Researcher Name

粕谷素洋

 Motohiro KASUYA

助教

 Assistant Professor

所属


Professional Affiliation

東北大学多元物質科学研究所
Institute of Multidisciplinary Research for Advanced Materials, Tohoku University

プロセスシステム工学研究部門 ハイブリッドナノ粒子プロセス研究分野

Division of Process and System Engineering, Hybrid Nano-particle

研究キーワード


Research Keywords

共振ずり測定
閉じ込め液体
電気化学表面力装置
分光表面力装置
Resonance shear measurement (RSM)
Confined liquid
Electrochemical surface forces apparatus (EC-SFA)
SFA fluorescence spectroscopy
研究テーマ


Research Subject

表面力装置を基にした新規評価法の開発と閉じ込め液体の特性評価への利用


Development of the novel methods based on surface forces apparatus for the characterization of the confined liquid.
研究の背景 Background
ナノ空間や固-液界面における液体(閉じ込め液体)は、分子と固体表面との相互作用や運動の制限により、バルクとは異なる性質を示します。このような液体の特性評価は、基礎科学的に重要であり、また近年の微細化した機能材料の特性制御やトライボロジーにおいても必須です。
Liquids confined in nanospaces exhibit different properties from those of bulk liquids due to liquid structuring induced by restriction of their molecular motion in nanospaces and by their interactions with solid surfaces. Evaluation of their properties is important in many research fields such as nanofunctional materials, and tribology
研究の目標 Outcome
ナノレオロジー・トライボロジー特性が評価可能な共振ずり測定法と不透明試料が測定可能なツインパス表面力装置(SFA)を中心手段として、材料界面における閉じ込め液体の特性評価を行います。さらに、電気化学SFAによる表面電位・電荷密度、イオン吸着等の電極特性の評価や、蛍光分光SFAと蛍光プローブ法を組み合わせた液体の局所特性評価(粘度、pH等)を利用して、材料機能の向上のための指針を得ることを目標とします。
To improve the performance of the nano-functional materials, we evaluate the properties of the confined liquid by the novel methods based on the surface forces apparatus (SFA). Resonance shear measurement(RSM) reveals nano- rheological and tribological properties of the liquid. Electrochemical SFA provides the surface potential, charge density, and ion adsorption on the electrode. SFA fluorescence spectroscopy provides the viscosity and pH of the confined liquid. We also perform a fluorescence spectrum and lifetime measurement system for a confined liquid film which can regulate the film thickness D using the twin-path SFA3),4). Using this system, we evaluated viscosity3) and pH4) of a confined liquid from spectra and lifetimes of fluorescence probes in the liquid.
研究図
Research Figure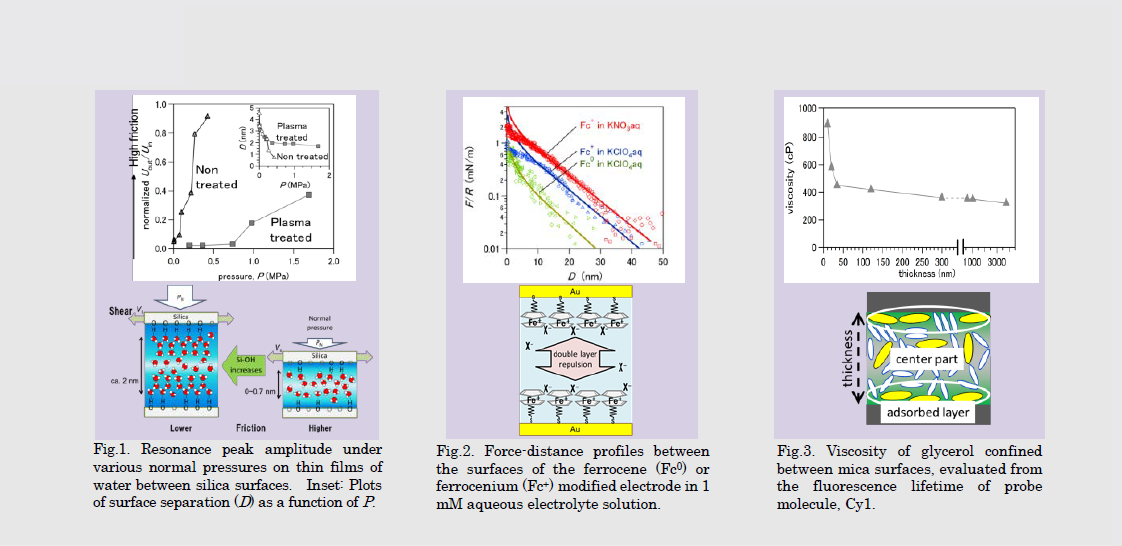 Fig.1. Resonance peak amplitude under various normal pressures on thin films of water between silica surfaces. Inset: Plots of surface separation (D) as a function of P. Fig.2. Force-distance profiles between the surfaces of the ferrocene (Fc0) or ferrocenium (Fc+) modified electrode in 1 mM aqueous electrolyte solution. Fig.3. Viscosity of glycerol confined between mica surfaces, evaluated from the fluorescence lifetime of probe molecule, Cy1.
文献 / Publications
Langmuir, 30, 7093 (2014). J. Phys. Chem. C, 117, 20738 (2013). Chem. Lett., 41, 1282 (2012). Chem. Lett., 40, 776 (2011).
Chem. Lett., 40, 674 (2011). Phys. Chem. Chem. Phys., 12, 4066 (2010).
研究者HP
motohiro.kasuya.b5tohoku.ac.jp