ISIR
The Institute of Scientific and Industrial Research, Osaka University
大阪大学
産業科学研究所
LAST UPDATE 2017/02/26
研究者氏名


Researcher Name

笹井宏明

 Hiroaki SASAI

教授

 Professor

所属


Professional Affiliation

大阪大学産業科学研究所
The Institute of Scientific and Industrial Research, Osaka University

第3研究部門(生体・分子科学系)・機能物質化学研究分野

Division of Biological and Molecular Science, Department of Synthetic Organic Chemistry

研究キーワード


Research Keywords

不斉触媒
光学活性化合物
有機合成
分子変換
Asymmetric catalysis
Optically active compounds
Organic synthesis
Molecular transformation
研究テーマ


Research Subject

不斉触媒反応を基軸とする実用的分子変換技術の創出


Development of highly practical molecular transformation based on enantioselective catalysis
研究の背景 Background
光学活性化合物は、医薬品・農薬や香料などの現代社会に必要な幅広い製品に利用されています。その需要は近年益々増加しており、光学活性化合物の効率的な供給法の開発は最重要課題の1つとされています。少量のキラル源から大量の光学活性体を産出できる「触媒的不斉合成法」はニーズに即した供給法であり、省エネルギー・環境調和性でも優れているため更なる技術革新が望まれています。
Optically active compounds are applied to a wide variety of manufactured products such as pharmaceutical agents, agrochemicals, and fragrances. Since the demand of optically active compounds has recently been increasing, efficient synthetic strategy for them is needed to be developed. Catalytic asymmetric synthesis, which is recognized as the most useful and green synthetic method of optically active compounds, should be further innovated.
研究の目標 Outcome
新しい概念に立脚した汎用性のあるエナンチオ選択的触媒反応の開拓を目指して、新規なキラル配位子や不斉有機分子触媒を創出し、それらを利用した実用的な合成プロセスの開発を行っています。また、コンピュータを活用した触媒分子の設計や反応メカニズムの解明にも積極的に取り組んでいます。
Towards the development of versatile synthetic transformation processes utilizing enantioselective catalysis, novel chiral ligands and organocatalysts are designed, prepared, and applied to the energy-saving and environmentally-benign reactions. The mechanisms of these catalytic reactions are also studied by means of physical organic techniques.
研究図
Research Figure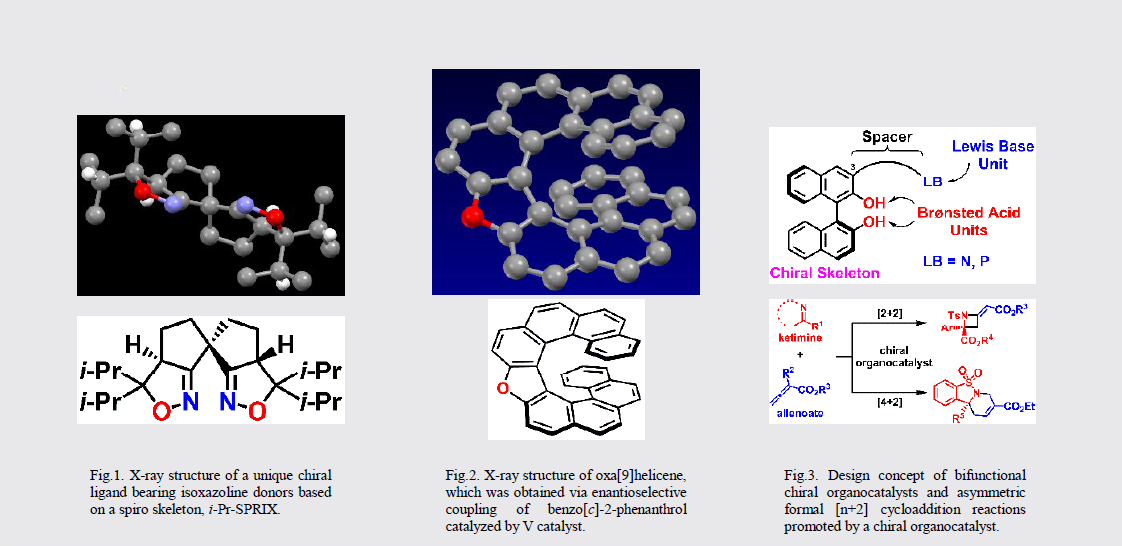 Fig.1. X-ray structure of a unique chiral ligand bearing isoxazoline donors based on a spiro skeleton, i-Pr-SPRIX. Fig.2. X-ray structure of oxa[9]helicene, which was obtained via enantioselective coupling of benzo[c]-2-phenanthrol catalyzed by V catalyst. Fig.3. Design concept of bifunctional chiral organocatalysts and asymmetric formal [n+2] cycloaddition reactions promoted by a chiral organocatalyst.
文献 / Publications
Chem. Commun., 49, 8392 (2013). Chem. Commun., 49, 11224 (2013). Asian. J. Org. Chem., 3, 412 (2014). Angew. Chem. Int. Ed., 53, 4675 (2014). Org. Lett., 16, 4162 (2014).
Org. Biomol. Chem., 13, 4837 (2015). Chem. Eur. J., 21, 8992 (2015). Angew. Chem. Int. Ed., 54, in press (2015) (doi: 10.1002/anie.201504552).
研究者HP
sasaisanken.osaka-u.ac.jp