IMRAM
Institute of Multidisciplinary Research for Advanced Materials, Tohoku University
東北大学
多元物質科学研究所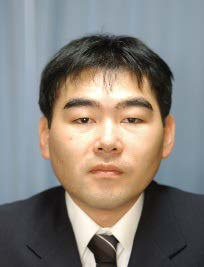 LAST UPDATE 2021/05/08
研究者氏名


Researcher Name

星野哲久

 Norihisa HOSHINO

助教

 Assistant Professor

所属


Professional Affiliation

東北大学多元物質科学研究所
Institute of Multidisciplinary Research for Advanced Materials, Tohoku University

マテリアル・計測ハイブリッド研究センター ハイブリッド材料創製研究分野 

Materials-Measurement Hybrid Research Center, Hybrid Material Fabrication

研究キーワード


Research Keywords

錯体化学
分子科学
分子磁性体・誘電体
分子性結晶・液晶・柔粘性結晶
Coordination chemistry
Molecular sciences
Molecular magnets / Molecular dielectrics
Molecular crystals / liquid crystals / plastic crystals
研究テーマ


Research Subject

固体内自由度を活用した多機能性金属錯体の開発


Development of multi-functional metal complexes
研究の背景 Background
光や電気・磁気に対して応答する材料は電子デバイスやエネルギー変換素子等に広く応用されており、その中でも分子性固体は幾何的・電子的構造における設計自由度の点でユニークな存在であるといえます。新しい分子性デバイス材料の開発において、新しい分子設計指針の確立が求められています。
Multi-functional materials responsible to photonic, electric and magnetic stimulations have been applied widely to the electronic devices and energy conversion elements. Molecular based condensed matters are unique in the variety and freedom of geometric and electric structures. Novel strategies for molecular design have been the current subject of intense interest for the purpose of multi-functional devices.
研究の目標 Outcome
分子の固体内自由度を活用した機能性固体の開発について研究を行っています。金属錯体を分子設計のベースとして、有機配位子の形状をデザインすることで、分子やその集合体が本来もつ機能(色・磁性・導電性など)と、分子が固体中で運動することにより発現する機能(誘電特性・光学異方性等)が複合した、新しい機能性材料の開発を目指しています。
Our research is aimed in the design of the molecules for components of functional materials utilizing the molecular motions (rotations, vibrations, etc.) in the solid for the dielectric and optical functions correlating with the intrinsic optical, electric and magnetic properties of the molecule, especially of the unique functionalities of multi-nuclear metal complexes.
研究図
Research Figure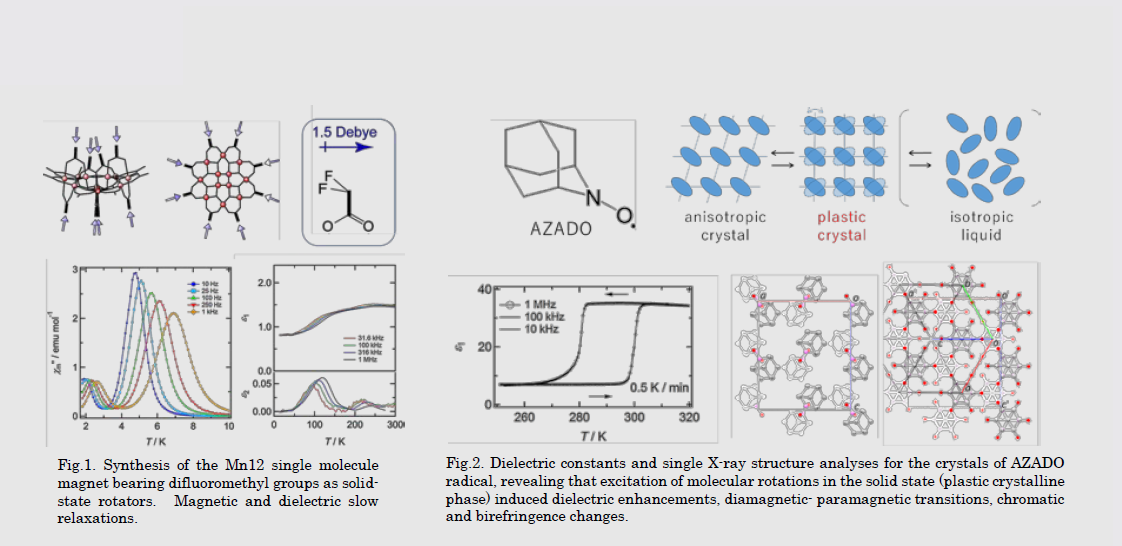 Fig.1. Synthesis of the Mn12 single molecule magnet bearing difluoromethyl groups as solidstate rotators. Magnetic and dielectric slow relaxations. Fig.2. Dielectric constants and single X-ray structure analyses for the crystals of AZADO radical, revealing that excitation of molecular rotations in the solid state (plastic crystalline phase) induced dielectric enhancements, diamagnetic- paramagnetic transitions, chromatic and birefringence changes.
文献 / Publications
Dalton Trans. 43, 9081 (2014). Chem.- Eur. J. 20, 16279 (2014). ASC Adv. 4, 743 (2014). Dalton Trans. 42, 4377 (2013).
研究者HP
norihisa.hoshino.b5tohoku.ac.jp