IMRAM
Institute of Multidisciplinary Research for Advanced Materials, Tohoku University
東北大学
多元物質科学研究所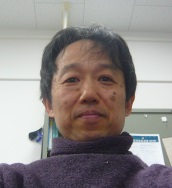 LAST UPDATE 2021/05/18
研究者氏名


Researcher Name

奥西みさき

 Misaki OKUNISHI

助教

 Assistant Professor

所属


Professional Affiliation

東北大学多元物質科学研究所
Institute of Multidisciplinary Research for Advanced Materials, Tohoku University

有機・生命科学研究部門 量子ビーム構造生物化学研究分野

Division of Organic- and Bio-materials Research, Quantum Beam-based Structural Biology and Chemistry

研究キーワード


Research Keywords

物理化学
分子分光学
強レーザー場
電子・分子動力学
Physical Chemistry
Molecular spectroscopy
Intense laser fields
Electron and molecular dynamics
研究テーマ


Research Subject

強光子場中での電子・分子ダイナミックス


Electron and molecular dynamics in intense laser fields
研究の背景 Background
ピーク強度の高い赤外フェムト秒レーザーパルスを分子に集光・照射すると、分子の価電子は強光子場により歪められたクーロン電場からのトンネル効果により放出され、トンネルイオン化が起こる。放出された電子の一部は振動する光電場により電子を放出した親イオンに再衝突・再散乱される。近年、これらの過程を利用した分子の超高速ダイナミックスの研究の可能性が指摘されるようになってきた。
When molecules are exposed to intense laser fields induced by ultrashort infrared laser pulses, valence electrons are ejected by tunnel ionization. Parts of the released electrons will be driven back by the oscillating electric field into recollisions with their ion cores. Recently it is proposed that tunnel ionization and rescattering electrons can be used to monitor electron and nuclear dynamics of molecules with femtosecond temporal resolutions.
研究の目標 Outcome
赤外フェムト秒強レーザーパルス照射による、分子のトンネルイオン化とそれに引き続き起こる電子再散乱過程を利用した、分子解離や光イオン化、電子緩和、光異性化などの電子・分子超高速ダイナミックスを観測するための新たな手法の開発を目指して研究を進めています。
We are developing the method to investigate and analyze electron and molecular dynamics such as photodissociation, photoionization, electronic relaxation, isomerization, etc., using tunnel ionization and subsequent electron rescattering induced by intense infrared intense laser pulses.
研究図
Research Figure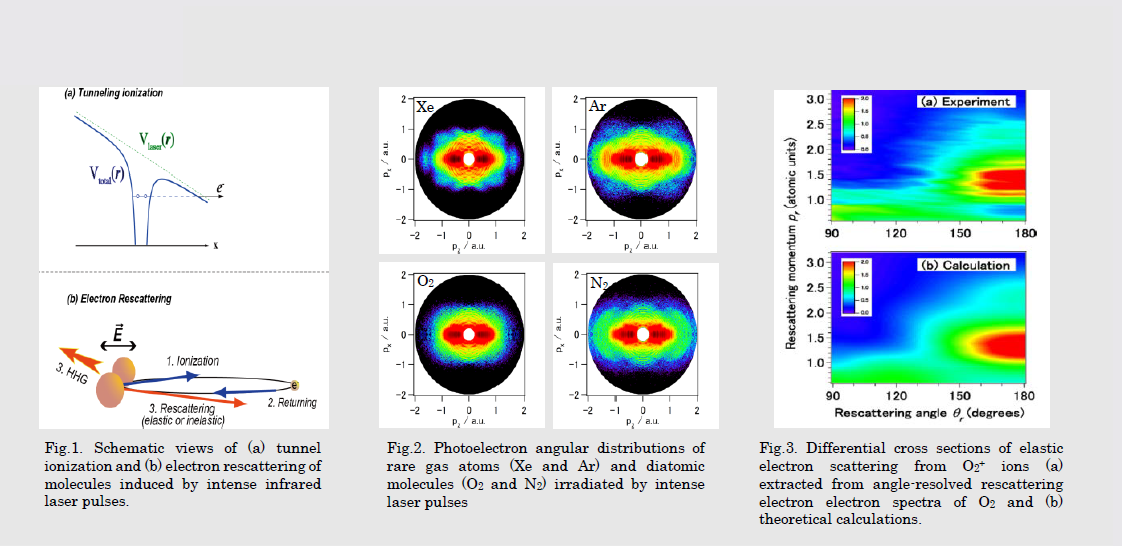 Fig.1. Schematic views of (a) tunnel ionization and (b) electron rescattering of molecules induced by intense infrared laser pulses. Fig.2. Photoelectron angular distributions of rare gas atoms (Xe and Ar) and diatomic molecules (O2 and N2) irradiated by intense laser pulses Fig.3. Differential cross sections of elastic electron scattering from O2+ ions (a) extracted from angle-resolved rescattering electron electron spectra of O2 and (b) theoretical calculations.
文献 / Publications
J. Electron Spectrosc. Relat. Phenom. 195, 313 (2014), Phys.. Rev. A,90,023405 (2014), Chem. Phys.,430,40-46 (2014), J. Phys. B: At. Mol. Opt. Phys. 45 131001 (2012), レーザー研究, 40, 774 (2012), Phys. Rev. Lett.,106,63001(2011)
研究者HP
m.okunishitohoku.ac.jp