IMRAM
Institute of Multidisciplinary Research for Advanced Materials, Tohoku University
東北大学
多元物質科学研究所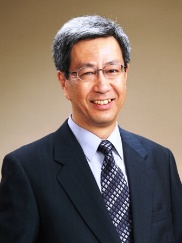 LAST UPDATE 2017/02/26
研究者氏名


Researcher Name

上田潔

 Kiyoshi UEDA

教授

 Professor

所属


Professional Affiliation

東北大学多元物質科学研究所
Institute of Multidisciplinary Research for Advanced Materials, Tohoku University

計測研究部門・電子分子動力学研究分野

Division of Measurements / Electron and Molecular Dynamics

研究キーワード


Research Keywords

電子分子動力学
新規計測法
先端光源
反応制御
Electron and molecular dynamics
Novel measurement methods
Novel light sources
Controlling reaction
研究テーマ


Research Subject

先端光源と独自の計測法を駆使した電子分子ダイナミクス研究と量子制御


Investigating and controlling electron and molecular dynamics with novel light sources
研究の背景 Background
物質の機能は原子レベルの構造と密接な関連があります。研究者は様々な反応において物質が構造変化を起こして機能を変化させる際の原子や電子の動きを捉えることを夢見てきました。一方、このミクロな世界の量子的な過程は、電子が波としての性質を持つことに由来する量子干渉により古典過程と異なった振舞いを示します。ミクロの世界では量子干渉を制するものが世界を制するといっても過言ではありません。
Functions of materials are closely related to structures at the atomic level. Researchers are dreaming about watching motions of atoms and electrons during ultrafast structural change. In quantum processes of the microscopic world, electrons have wave nature and thus quantum interference takes place. One has to understand and make use of quantum interference in order to visualize, control and govern the microscopic quantum world.
研究の目標 Outcome
超短パルスレーザー、世界最高分解能軟X線放射光、X線自由電子レーザー等の最先端光源と独自に開発した最先端計測技術を駆使して、量子論が支配する分子・分子集合体における光電離・光解離・電子緩和・光誘起電子移動・光異性化・光誘起相転移等の超高速反応における原子や電子の動きを視覚化し制御することを目指しています。
We aim to analyze and control ultrafast reactions such as photoionization, photodissociation, electronic relaxation, electron transfer, isomerization, phase transitions, etc., governed by quantum mechanics, in molecules and nanostructured systems, combining the original and novel measurement methods with the novel light sources such as ultrafast pulse lasers, high-resolution monochromatic soft x-ray synchrotron radiation and x-ray free electron lasers.
研究図
Research Figure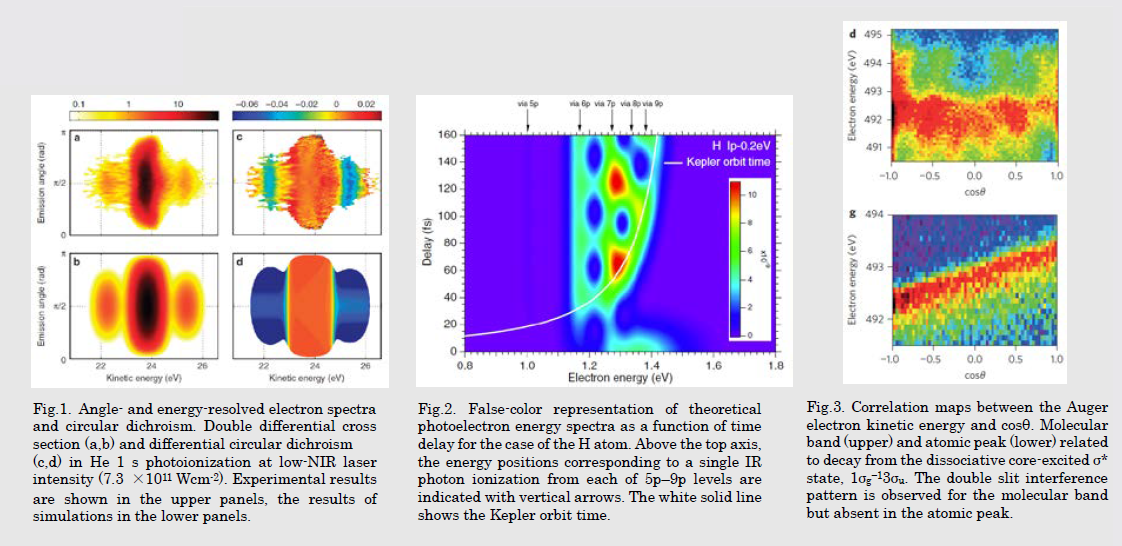 Fig.1. Angle- and energy-resolved electron spectra and circular dichroism. Double differential cross section (a,b) and differential circular dichroism (c,d) in He 1 s photoionization at low-NIR laser intensity (7.3 ×1011 Wcm-2). Experimental results are shown in the upper panels, the results of simulations in the lower panels. Fig.2. False-color representation of theoretical photoelectron energy spectra as a function of time delay for the case of the H atom. Above the top axis, the energy positions corresponding to a single IR photon ionization from each of 5p–9p levels are indicated with vertical arrows. The white solid line shows the Kepler orbit time. Fig.3. Correlation maps between the Auger electron kinetic energy and cosθ. Molecular band (upper) and atomic peak (lower) related to decay from the dissociative core-excited σ* state, 1σg−13σu. The double slit interference pattern is observed for the molecular band but absent in the atomic peak.
文献 / Publications
Nature Photonics 9, 120 (2015); Nature Communications 5, doi:10.1038/ncomms5281 (2014); Nature Communications 5, doi:10.1038/ncomms4648 (2014); J. Chem. Phys. 141, 121105 (2014); J. Chem. Phys. 140, 044309 (2014); Phys. Rev. A 90, 023408 (2014); Chem. Phys. 439, 111 (2014); Chem. Phys. 440, 64 (2014).
研究者HP
kiyoshi.ueda.a2tohoku.ac.jp